Los Angeles, CA – December 3, 2020: Habitat for Humanity of Greater Los Angeles (Habitat LA), a leader in affordable housing will host the first-ever Virtual Veterans Build 2020 on Monday, December 7, 2020 at 10:00am on the habitatla.org website. Powered by City National Bank, this free event open to the public will bring together a panel of experts in the veterans community for a live discussion to inform and educate on the challenges veterans and military families face regarding critical topics including housing, employment and the transition to civilian life. The Habitat LA team will virtually invite event attendees behind-the-scenes of a current Habitat for Heroes development with long-term Habitat LA volunteers who are also veterans, providing a variety of interior and exterior home repairs to improve the safety and security of a fellow veteran's home.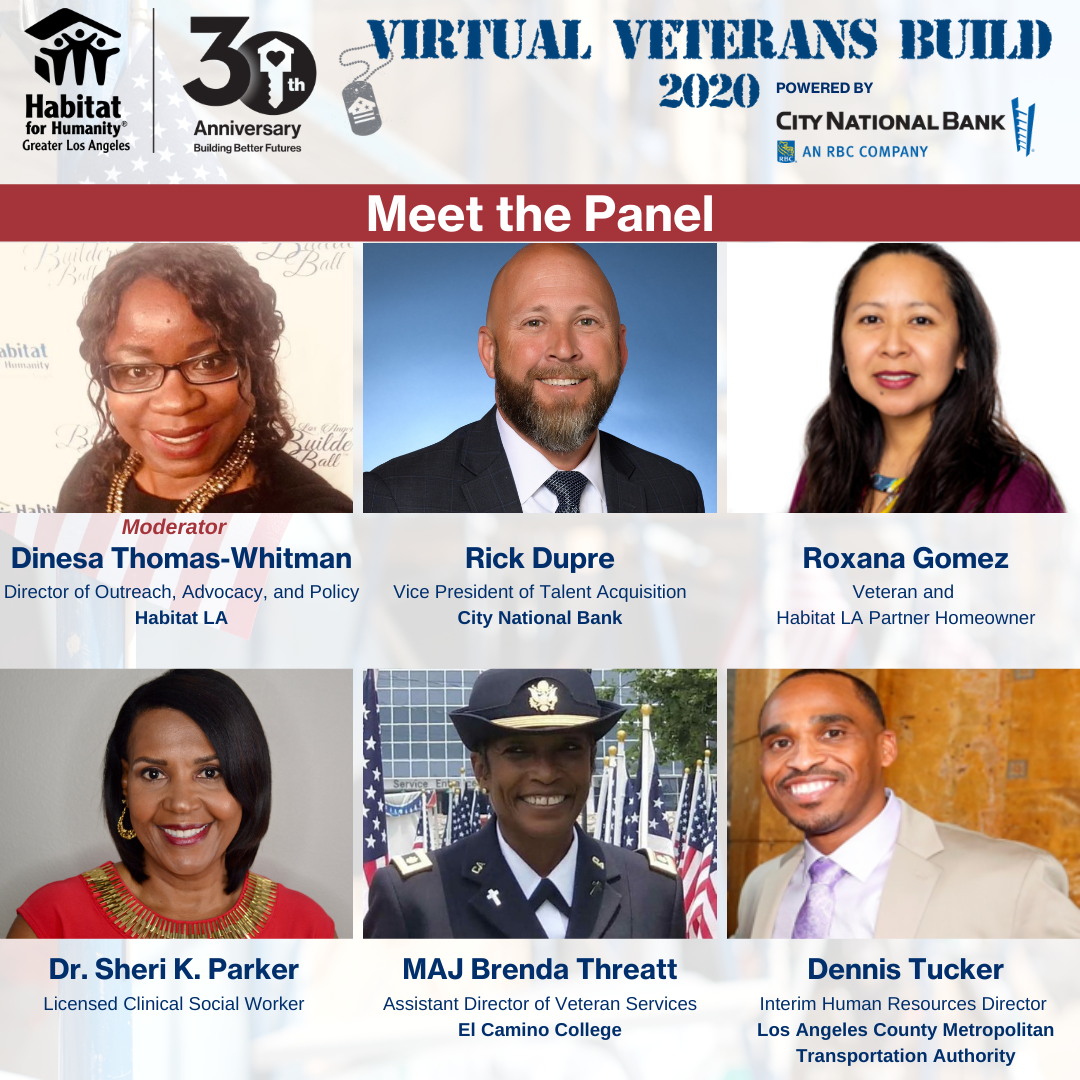 Meet the Panelists
Rick Dupre, Vice President, Talent Acquisition, City National Bank – is the co-chair of the City National Veterans and Military Network, a partner to City National in its commitment to hire, support and retain colleagues with prior military service and those serving in the National Guard and Reserve.
Roxana Gomez, Veteran and Habitat LA Partner Homeowner – a single mother who served for five years in the military and completed two tours in Kuwait and South Korea, achieved her dream of homeownership as a Habitat homeowner.
Dr. Sheri Kim Parker, Licensed Clinical Social Worker – with more than 25 years of professional experience in the field of mental health, Dr. Parker's work focuses on inclusion, equal access, and mental wellness for historically marginalized populations.
Maj Brenda Threatt, Assistant Director of Veteran Services, El Camino College – oversees the programs and services that assist veteran students in achieving academic success, graduation, and ultimately, successful careers.
Dennis Tucker, Veteran Program Manager and Talent Acquisition, Los Angeles County Metropolitan Transportation Authority – is a 22 year Army vet who previously served as Veteran Advisory Commissioner for Mark Ridley-Thomas, Supervisor, and Second District and is a mentor to young men and women in Army Reserve and National Guard units throughout Los Angeles County.
Housing, employment and mental health are all critical issues facing our veterans and military families. Launched in 2011, Habitat for Heroes initiative was created to build, honor, and serve our veterans, active duty members, armed services and their families through the unique programs and opportunities offered by Habitat LA. Since then, more than 4,100 veterans have served with us, and more than 265 have benefitted from Habitat LA housing services.
"We owe a debt of gratitude to the approximately 300,000 veterans currently living in Los Angeles County," said Erin Rank, President and CEO, Habitat LA. "This community of veterans, as well as active military and their families, have made an immeasurable contribution to our nation, dedicating their lives to keeping our nation safe."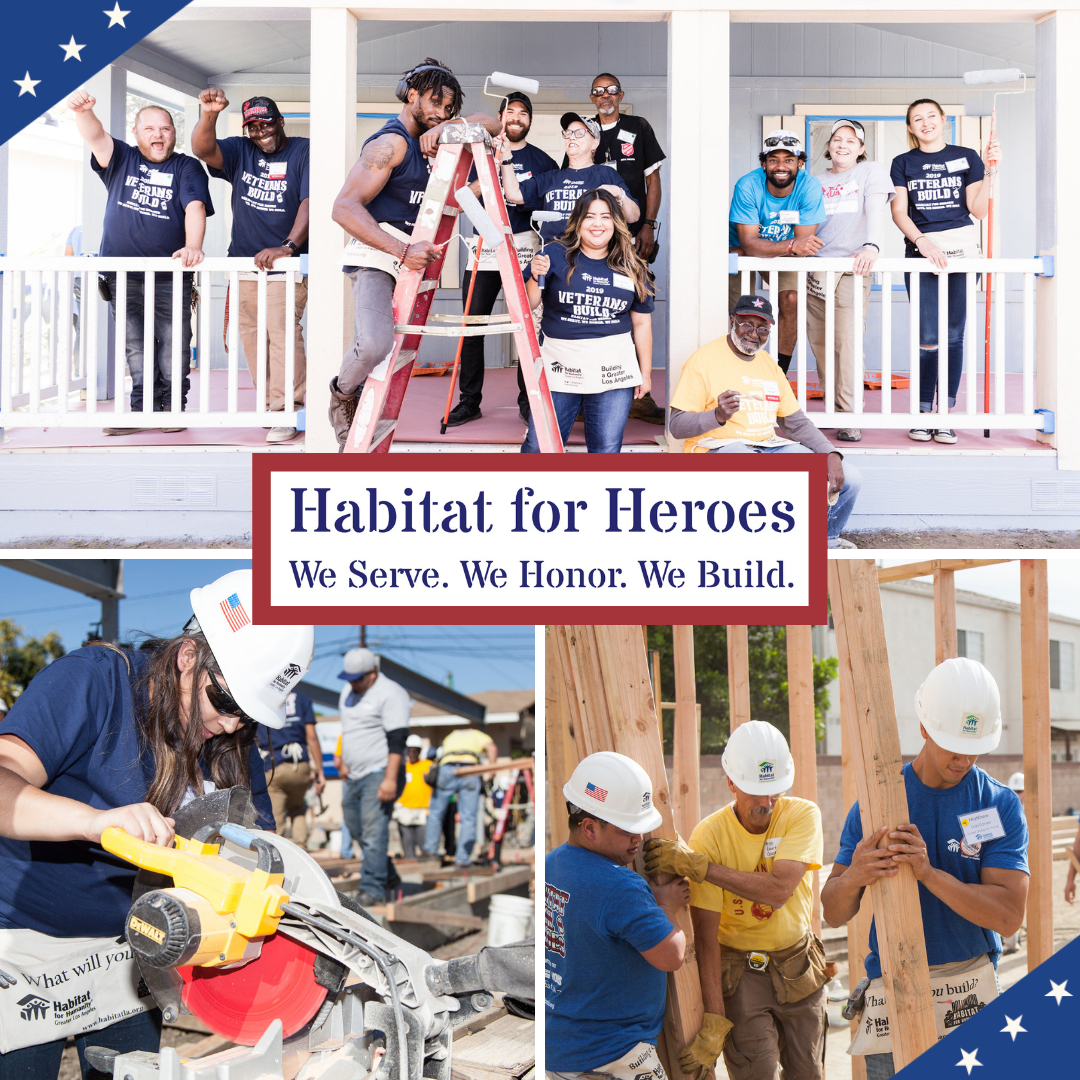 City National Bank has served as presenting sponsor for all of Habitat LA's virtual events in 2020; fully supporting Habitat LA's commitment of continuing to come together and raise funds and awareness for affordable housing solutions despite the challenges that arose from COVID-19. City National Bank has a long history of giving back to the community and it's taken on an even greater meaning during the pandemic.
"City National proudly supports Habitat for Humanity's mission to fulfill one of society's most pressing needs — providing our nation's heroes with a place to call home," said Jennifer Nickerson, Senior Vice President and Manager of Community Relations at City National Bank. "Veterans have dedicated their lives to our country, so it's our honor to help them build better one."
Through shelter, Habitat LA empowers. Thank you to our Foundational Partners and Host Committee for their support as we help veterans, military service members and others in need of decent housing to achieve the strength, stability, and independence they need to build a better life for themselves and their families. To learn more about the Habitat for Heroes program, please visit https://www.habitatla.org/get-involved/habitat-for-heroes/.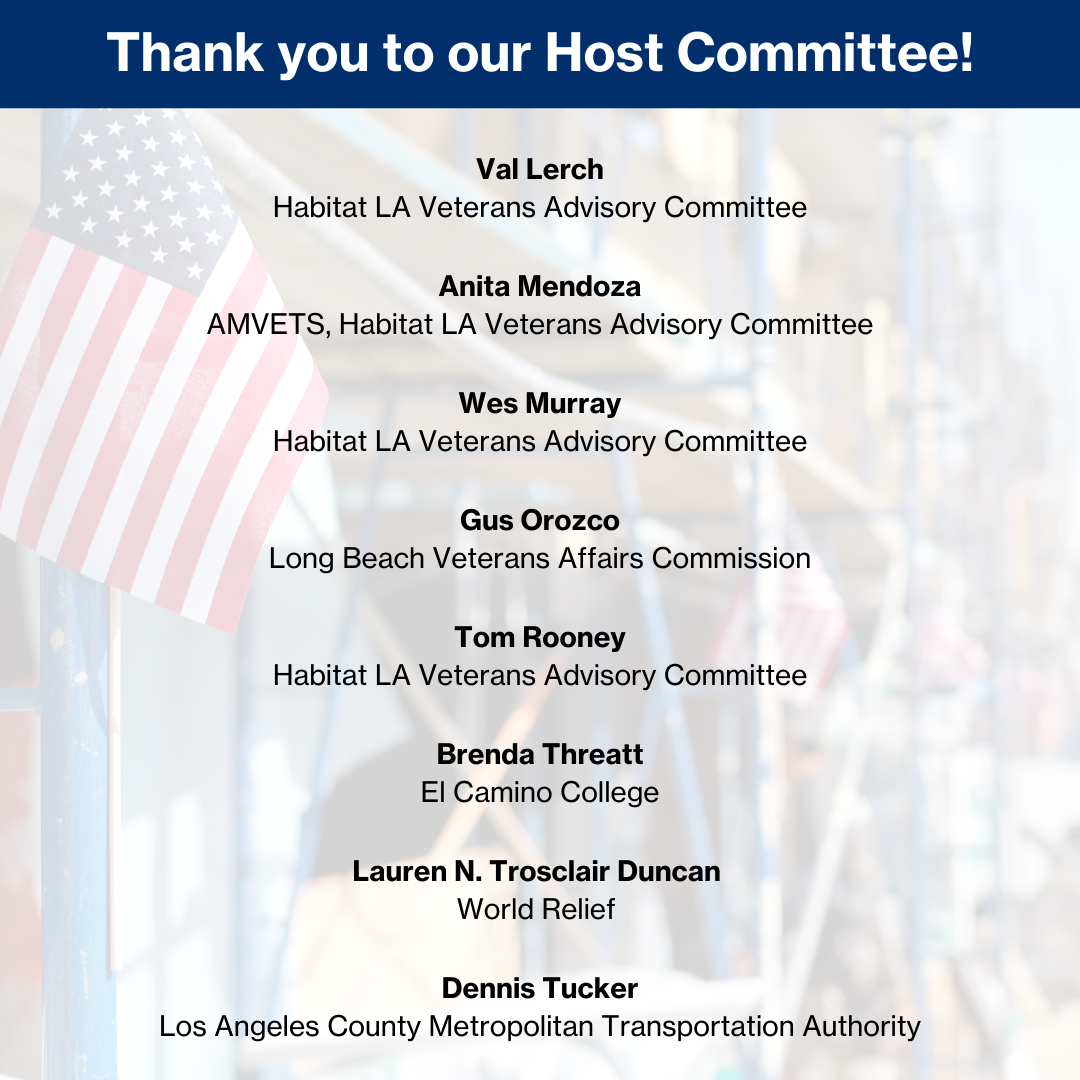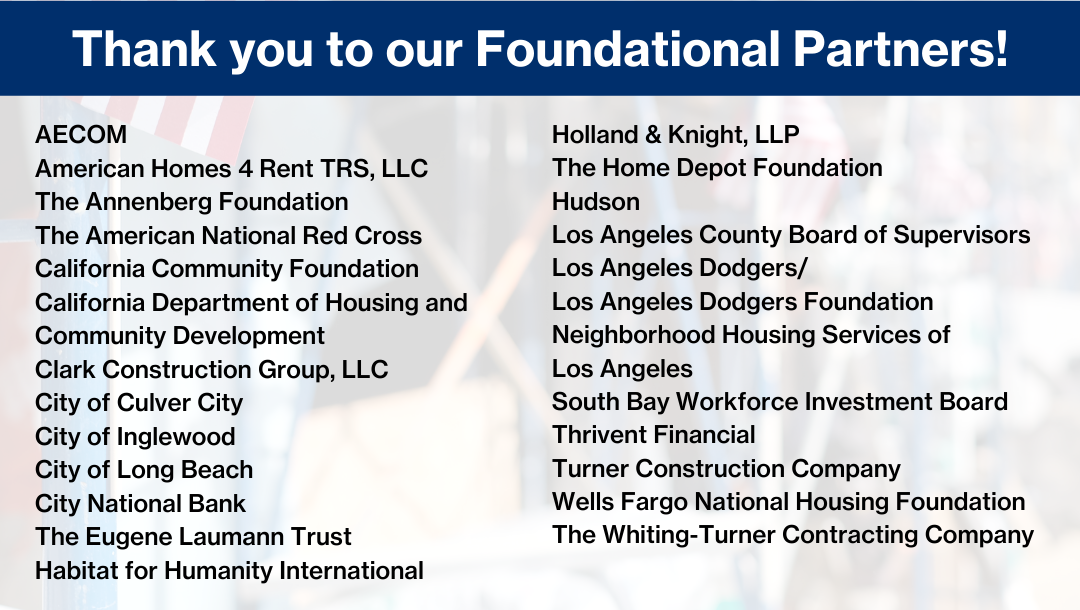 About Habitat for Humanity of Greater Los Angeles
Habitat for Humanity of Greater Los Angeles (Habitat LA) brings people together to build homes, communities and hope. As the top nonprofit residential homebuilder in the greater Los Angeles area with a Charity Navigator 4-Star rating for eight consecutive years and the Platinum GuideStar status for transparency, Habitat LA has partnered with volunteers, donors and Habitat homeowners to build, renovate and repair more than 1,000 homes locally since 1990. The lives of thousands of individuals have been transformed as a result of having a decent and affordable place to call home. Habitat homeowners help build their own homes and pay an affordable mortgage. By supporting Habitat LA through volunteerism, donations and supporting affordable housing, everyone can help families achieve the stability and self-reliance they need to build a better future. To learn more, visit www.habitatla.org.
Media Contact:
Genetric Brown
(310) 808-5902
gbrown@habitatla.org
www.habitatla.org