Faith and Community
Serving Together in Ministry
Habitat for Humanity is an ecumenical Christian ministry built on the biblical principles of obeying God, loving one another and caring for the poor.  Habitat and the faith community are natural partners in this hands-on ministry, where people are given an opportunity to put their faith into action and see a tangible result.
If you are interested in a group volunteer opportunity please complete the Group Interest Form.
---
Habitat for Humanity of Greater Los Angeles (Habitat LA) values our Faith Partners
People of faith hear a calling to reach out to those in need and change the world.  We offer them that opportunity.  Together we embrace our shared calling to make a difference in the world.  We accomplish this by partnering with others and building homes and hope.  The Habitat LA ministry allows congregations the opportunity to  follow Christ's teachings by serving those in need.  Each home built by Habitat LA is a testimony to the love of God.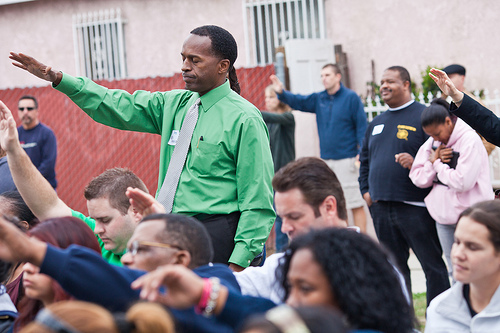 Covenant Partners
Join Habitat LA from 2015-2019 as a Covenant Partner to help complete an additional 635 homes!  Covenant Partners will pray, volunteer, help find families to serve, fundraise, and/ or advocate.  Click on the button below for more information.
Habitat LA Covenant Partner Information
Denomination Coalitions
Given the overall cost and time it takes to build a home, it can be challenging for one congregation to complete a Habitat home on their own. However, when 10-15 congregations come together, it becomes much easier to address the issue of aordable housing and provide homes
for hardworking, low-income families at the same time. Habitat L.A. already has active Catholic, Lutheran, Methodist, and Presbyterian coalitions building each year, as well as other denominations that have voiced an interest in collaborating together. Be sure to contact us if you are interested in joining or starting your own denominational coalition.
Presbytery of the Pacific Coalition
Interfaith Building Initiative
Habitat LA is thrilled to be partnering with Habitat for Humanity International and Habitat affiliates across the country to promote an interfaith building initiative.  We will bring different faith and spiritual traditions together to build and renovate homes as well as educate and advocate on behalf of the thousands in need of decent and affordable homes right here in greater Los Angeles.  More detailed information about the program is available by accessing the interfaith toolkit.
Contacts
Chris Untiet
Director of Faith Relations
(310) 323-HOME(4663) ext. 129
(310) 749-8575 (cell)