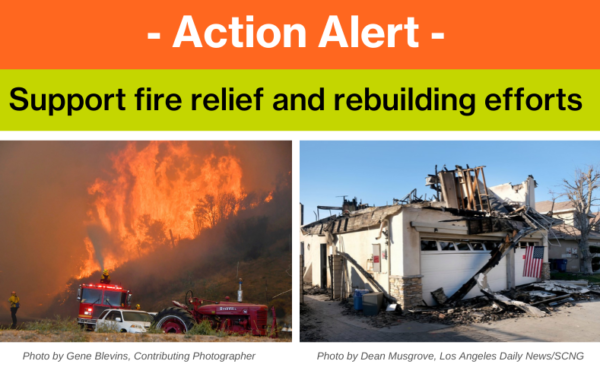 Supporting families affected by natural disasters requires collaborative efforts. Habitat for Humanity of Greater Los Angeles (Habitat LA) helps affected families with immediate and long-term support, we help communities recover and regain the capacity to rebuild their lives. The need for quality shelter and housing often remains for years after the fires. Your support will give the means to rebuild lives, homes, and communities. As recovery continues and wildfires remain a threat in Southern California, there are ways YOU can help support recovery efforts. Your support will give the means to rebuild and strengthen lives, homes, and communities.
---
---
Creek Fire and Woolsey Fire Relief Efforts
---
---
---
In November, 2018, Los Angeles County experienced the most destructive wildfire in its history. Propelled by wind gusts of up to 70 mph, the Woolsey fire burned for 13 days before nearly 4,000 firefighters could contain it. It left behind a trail of devastation that covered 150 square miles.
As part of our 2017 expansion into the San Fernando Valley, Habitat LA joined the Emergency Network of Los Angeles. We then helped establish and joined the Los Angeles Regional Community Recovery Organization (LARCRO). LARCRO is a coalition of community organizations and local government offices dedicated to helping those impacted by wildfires and other natural disasters. Since the fires containment, we've been meeting with local residents to discuss the best way for us to help them rebuild their lives and communities.
We started by helping the families whose homes were damaged but not destroyed by the fire. With funding help from the United Way and the American Red Cross, we have been able to repair over 45 homes in the Seminole Springs Mobile Home Park. In partnership with LARCRO, we are in the process of aiding survivors whose homes were completely destroyed from the Woolsey fire by assisting with essential needs to ensure they have a safe, sanitary, and secure home to return.
---
---
Deferred Payment, Low-Interest Loans to Repair and Rebuild
---
In partnership with the State of California Housing and Community Development Department (HCD), Habitat for Humanity of Greater Los Angeles (Habitat LA) can provide deferred payment loans to homeowners whose homes were damaged or destroyed in the 2017 or 2018 Los Angeles wildfires.
---
---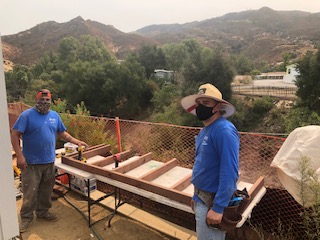 ---
We Go On (California Strong)
---
---
"We Go On (California Strong)", the song and video, were conceived and created by singer, songwriter and filmmaker Celleste, along with her partner, co-writer and music producer Eric Dick, with a single goal in mind: to raise money to benefit rebuilding efforts across California after the devastating wildfires of the past two years. To accomplish their goal, the two partnered with Habitat for Humanity of Greater Los Angeles to create the "WeGoOn" Fund.
All proceeds donated to the fund, as well as sales of the song, will benefit Habitat LA's work across California, with the specific goal of rebuilding homes, and communities lost or severely damaged by wildfires and natural disasters. To learn more about the WeGoOn Fund, click here.
---