Home Preservation Program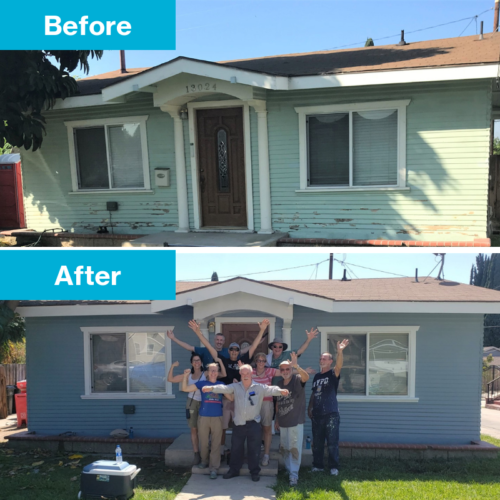 ---
Each year, Habitat LA partners with low-income homeowners to provide critical health and safety repairs to the interior and exterior of their homes. To determine if they qualify, homeowners must submit a complete program application along with documentation to establish their eligibility. Participant selection is based on funding, the need of the homeowner, and the condition of the home. Funding is limited and not all eligible applicants will be selected.
City of Whittier
Minor Home Repair Grant
In partnership with the City of Whittier Community Development Department, Habitat LA can provide low-income City of Whittier homeowners with up to $5,000 in FREE home repairs to address health, safety, and security issues in and around the home.
Click HERE to view more information on program criteria, requirements and type of repairs offered. Applications are currently being accepted. Download our application below to start yours today! (Para información en español, haga clic AQUI.)
Veteran Home Repairs
---
Habitat LA has funding available to provide home repair assistance to veteran homeowners to a veteran household member. Click HERE for more information on Veteran Home Repairs. Applications are currently being accepted. Download our application below to start yours today!
---
Homeowners must meet the following basic program criteria to be eligible for the Habitat LA Home Repair Program: Click HERE for full Eligibility Criteria and examples of repair services provided.
Must own a home within the Habitat LA service area

Property must be owner-occupied and serve as the primary residence of all owners on the title.

The property must be a single-family residence, manufactured home, condominium, town home or duplex.

Multi-family dwellings larger than two units (apartment buildings, triplex, etc.), homes used as rental units, boats, and recreational vehicles (RVs) are NOT eligible

Owners of multiple real estate properties are not eligible.

Homeowners must demonstrate that the following items are current:

Mortgage Loan Payment

Homeowner's Insurance

Property Taxes

Household income must be below current maximum income limits (see income eligibility chart).
Homeowners must agree to an affordable one-time payment or a forgiven loan (see details in Affordable Repayment section below).

Homeowners and/or household members must be willing to contribute 24 sweat equity hours, if physically able

Homeowners must be U.S. Citizens or Permanent Legal Residents
---
2019 Income Eligibility Limits

Number of People
in Household
Maximum
Income Limit
1
$58,450
2
$66,800
3
$75,150
4
$83,500
5
 $90,200
6
$96,900
7
$103,550
8
$110,250
---
---
Homeowners agree to pay for repair services provided by the Home Repair Program through one of the following affordable repayment plans:
Homeowners pay a one-time fee equal to 3% of the total project costs of the repairs provided.  Homeowners pay no more than $450 for critical repairs.
Homeowners agree to a 0% interest, $0 down payment, $0 monthly payment for the total project costs of the repairs provided. The loan is secured to the property and is completely forgiven if the homeowner remains in the home for seven years after the repairs are completed.
All repayment funds are recycled and used to assist future low-income homeowners in need of repairs.
---
---
The Home Repair Program establishes a partnership that relies on the homeowner's involvement and participation. If selected for home repairs, homeowners must be willing to partner with Habitat LA in a variety of ways, including:
Signing a Homeowner Neighborhood Covenant – Homeowners pledge to partner with Habitat LA and perform the expected commitments of the program.
Completing 24 sweat equity hours – The homeowner, a household member, or friend of the homeowner must be on site and willing to work in various capacities throughout the duration of the home repairs, as well as perform approved non-construction activities.
For more information about our Home Preservation Program, please contact us at (310) 323-4663 ext. 314.
Home Preservation Program selection and repairs provided are subject to the availability of funding. Not all eligible applicants will be selected. Program policies are subject to change.