Los Angeles, CA – April 3, 2019: Habitat for Humanity of Greater Los Angeles (Habitat LA) is pleased to announce the return of Raul Salinas and Brad Cox as Co-Chairs for the 2019 Los Angeles Builders Ball to be held September 26, 2019 at The Beverly Hilton. Raul Salinas, of AlvaradoSmith, returns for a fifth time as Co-Chair, while Brad Cox, of Trammell Crow Company, returns for his second year as Co-Chair.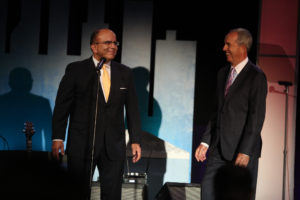 Raul Salinas is the Managing Shareholder in AlvaradoSmith's Los Angeles office. He has extensive business, government and international litigation experience, and handles a wide range of major litigation cases in a number of industries for public and private sector clients.  Raul has been serving on the Habitat LA Board of Directors for several years, bringing his leadership and support to every facet of the organization's mission. Raul is very familiar with the struggles associated with securing a stable home environment, which only fuels his passion to serve the community. Learn more here.
Brad Cox serves as Senior Managing Director for Trammell Crow Company where his primary focus is raising capital, setting investment strategy, creating deal flow, and overseeing the day-to-day activities for the Los Angeles Business Unit. Brad, too, has been involved with Habitat LA for several years providing leadership and generous support. Brad is not only motivated to help his community; he is committed to raising it up. Learn more here.
"We are incredibly grateful to Raul and Brad for their commitment to the Habitat LA mission. Last year, these two gentlemen demonstrated that they are a powerful team, helping us to raise over $900,000 at our event," said Erin Rank, President and CEO, Habitat LA. "We are confident that with their continued leadership, this year's annual fundraising gala is sure to be even more successful!"
The Los Angeles Builders Ball honors fellow professionals and organizations in the building and real estate industries, who work to improve the landscape of Los Angeles. It is a wonderful evening of inspiration and generosity, which raises several hundred thousand dollars to support our mission to create more affordable housing solutions for low-income families and individuals in Los Angeles. Sponsorship opportunities are now available for this year's event.
The 2019 Los Angeles Builders Ball Host Committee includes:
Raul Salinas, AlvaradoSmith (Co-Chair)
Brad Cox, Trammell Crow Company (Co-Chair)
Michele Blay, Goodwin
Terri Haack, Terranea Resort
Carl Jordan, U.S. Bank
Jan Karl, Morley Builders
Christina Lee, Trammell Crow Company
John Manganiello, (Retired) Bank of America
Tammy McGuinness, KPMG
Michelle Meghrouni, Southern California Gas Company
Dana Treister, Seyfarth Shaw LLP
Araceli Villegas, Ringstar Sports
For more information and to purchase sponsorships, please contact Director of Development, Helen Dosta, at hdosta@habitatla.org or 424-246-3653.
About Habitat for Humanity of Greater Los Angeles
Habitat for Humanity of Greater Los Angeles (Habitat LA) brings people together to build homes, communities and hope. As the top nonprofit homebuilder in the greater Los Angeles area with five consecutive Charity Navigator 4-Star ratings, Habitat LA has partnered with volunteers, donors and Habitat homeowners to build, renovate and repair more than 1,300 homes locally and worldwide since 1990. the lives of thousands of individuals have been transformed as a result of having a decent and affordable place to call home. Habitat homeowners help build their own homes and pay an affordable mortgage. By supporting Habitat LA through volunteerism, donations and supporting affordable housing, everyone can help families achieve the stability and self-reliance they need to build a better future. To learn more, visit www.habitatla.org.
# # #
Media Contacts:
Genetric Brown
Habitat LA
O: 424-246-3187
C: 310-808-5902
gbrown@habitatla.org
Angela Moore
Starfish P.R.
C: 310-429-8868
angela@starfish-pr.com