Brad Cox has been involved with Habitat for Humanity of Greater Los Angeles (Habitat LA) for several years and this year he is serving as Co-Chair of our 2018 Los Angeles Builders Ball. His leadership and support for our mission has been a tremendous asset, and we are thrilled to have his guidance in the planning and execution of our annual fundraising event. As you will learn in this short interview below, Brad is not only motivated to help his community, he is committed to raising it up.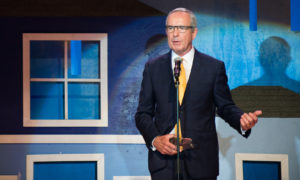 What or Who inspires you (or motivates) you to give back in your community?
As a farm kid from Indiana, I appreciate that Los Angeles provided me the opportunity to build a successful real estate career in a community that rewards individuals for hard work and creativity for solving complex problems without discrimination for race, background or education. Great communities are built on sharing a common belief that we all need to work together to help each other succeed.
Why do you support Habitat for Humanity? How long have you been involved?
I have been involved and supported Habitat LA for four years. I am pleased to be involved in a great organization that supports individuals in need, and who appreciate and recognize the benefit of unifying families into quality housing which elevates their confidence and self-esteem.
Do you have a superpower?
The belief that a successful society requires individuals to engage, communicate and respect people of all walks of life. Each of us has our own story and we must appreciate that a society thrives when it supports its weakest links.
What does "home" mean to you?
Home is a safe, supportive, clean, loving, accepting and healthy environment.
More about Brad Cox
Brad Cox serves as Senior Managing Director for Trammell Crow Company where his primary focus is raising capital, setting investment strategy, creating deal flow, and overseeing the day-to-day activities for the Los Angeles Business Unit. Trammell Crow Company is a 69-year national development company, a wholly owned subsidiary of CBRE, with offices in 16 cities across the United States.
Prior to joining Trammell Crow Company, Brad was Senior Managing Director of the Southern California region for Cushman & Wakefield, which included six offices and 135 brokers. His 37-year career real estate experience has also included the development, marketing and leasing activities of real estate portfolios totaling more than 10M SF for institutional and entrepreneurial owners in Southern California.
Prior to Cushman & Wakefield, development and leasing experience includes the 1.2M SF Westwood Gateway project in West Los Angeles, the 600,000 SF 550 South Hope Street Office Building and the repositioning of the 1.2M SF 55 story 333 South Hope Street building in downtown Los Angeles on behalf of, Bren Investment Properties, The Koll Company and MetLife.
Builders Ball 2018 was a great success, if you are interested in contributing more to Habitat LA's mission, click here!