Volunteers from Wells Fargo came out to help us build three homes on our Hyde Park site in Inglewood. You can read about their build days HERE and HERE. We were thrilled that they could attend the recent dedication of these homes and see the families receive their keys. The post below is by Mia Joiner, one of the Wells Fargo volunteers.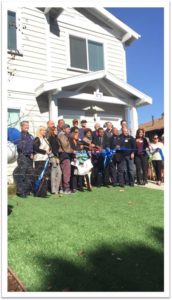 Some of my colleagues had the pleasure of coming to the site on our first volunteer day when we stood in the mud and literally built the house from scratch, and some of them had the privilege of putting the finishing touches on the homes just as they were nearing completion. I say again, THANK YOU, to all of my colleagues who signed up for this hard and fulfilling work. Three families now are HOMEOWNERS because of what we did together.
Habitat for Humanity of Greater Los Angeles had a beautiful ceremony with community, and faith leaders who were present, and before the families cut the ribbon we all prayed over the homes. It was truly a beautiful event.