Guest Blog Post by: Edgar Tellez, Inbound Sales Specialist, Wells Fargo Customer Connection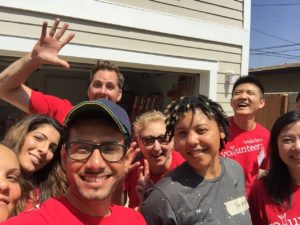 I am writing to share with all of you my experience of volunteering for the first time through the Wells Fargo Volunteer Program. For some time, I have wanted to volunteer, and recently found information through our company about Habitat for Humanity of Greater Los Angeles (Habitat LA), an opportunity promoted by one of my colleagues. I was very happy to participate in such an amazing program, and feel honored to have met the two families benefiting from our home construction efforts, as well as my fellow team members who joined the project that day.
I would like to relate something about Tamara Lindsay, who is one of the Habitat homebuyers in Inglewood who we met and worked with. Tamara is a veteran who ended up homeless after returning from service in the Middle East. Thanks to this program and our Wells Fargo team effort, and everybody else that volunteers,  she will soon have a beautiful home to call her own. I'm very proud and extremely excited for her, and grateful that we could help. No one deserves that home more than she, providing her comfort, stability and a beautiful place to live her life.
This project inspired me and all of the team volunteering that day. Not only did we help someone in need, but we all learned to do things that we have never done and didn't believe possible. I look forward to the next project so that I can continue to give back to the communities in which we operate, helping people with things that go beyond our day to day job responsibilities. The feeling you get from volunteering and helping other people goes beyond words, something to be lived not just talked about. I thank everybody who was there to help; it was truly an honor to meet all of you. I want to encourage everyone reading this to get involved and push yourselves to try something new in service of others.