It's been one year since our Los Angeles ReStore opened its doors in mid-city Los Angeles, so we're throwing an anniversary party on Saturday, April 27, and a 25% off storewide sale Friday through Sunday, April 26-28. The celebration falls just a few days after Earth Day (April 22), so the festivities will take on an environmental theme, in honor of the ways our ReStores help save the planet.
A tent outside the ReStore will host giveaways and games for kids, while DJ Hope will rock the house inside from 11am-3pm. Dinah Wulf of DIY Inspired will show guests how to make home décor pieces from 11am-1pm, while Visions Paint will explain the environmental benefits of recycling paint from 1:30-3pm. There will also be a raffle for a KitchenAid island barbecue grill, valued at $3,000 retail.
In preparation for the big celebration, the L.A. ReStore has gotten a new look and layout that has improved the shopping experience for our customers, our staff, and volunteers who wish to support our mission.
The L.A. ReStore's street-facing windows have always made it a bit more of a showroom store. Recently, we updated the layout to make it feel like a boutique. We've set up all the furniture and appliances the way a department store or a home stager might: incomplete bedroom, living room, or dining room sets. The settings may include cups and plates on the tables, and even a rug that ties the whole room together.
"The intent is to give customers a visual sense of what the furniture might look like in their homes," said Angy Smith, Senior Vice President of Retail Operations for Habitat LA. "That creates a better shopping experience, which leads to a better customer service experience."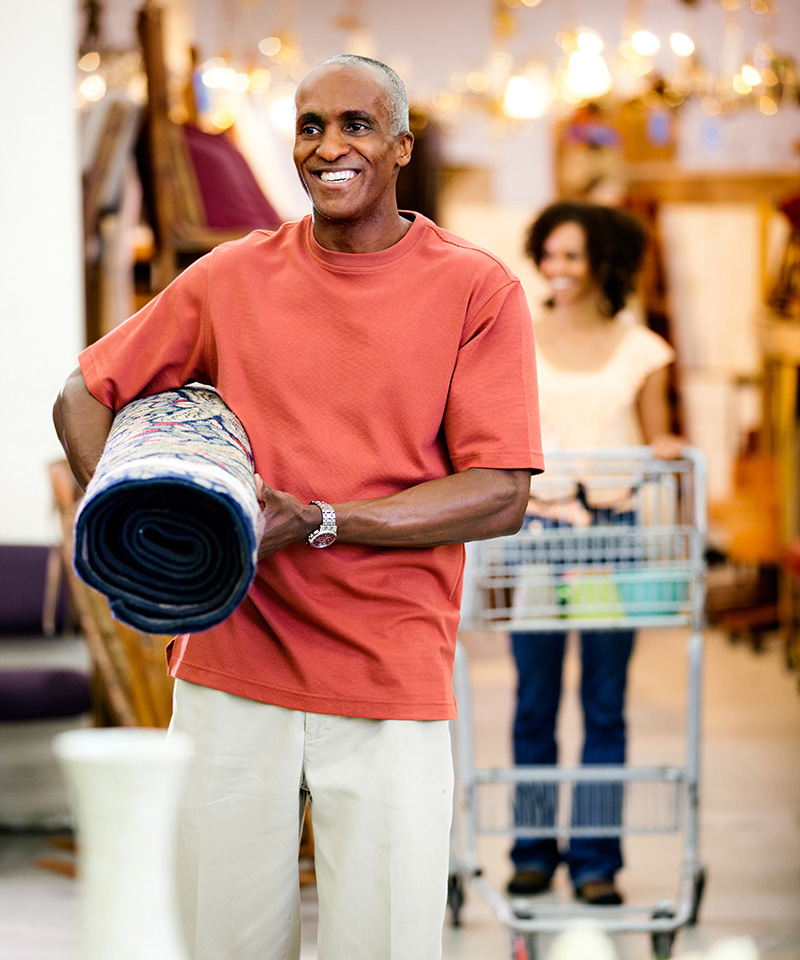 Angy predicted the boutique feel would make ReStore volunteers feel like they're working at a retail store, not just moving furniture around. She also said the new layout may encourage additional donations. "People walking into the ReStore can see that if they want to donate their entire dining room or bedroom suite, we can take it off their hands."
The refreshed look of the ReStore is already paying dividends, Angy said, citing a 28% increase in daily sales since the implementation of the new layout. "We've gotten a lot of great feedback from customers who shop at the store on a regular basis," she said.
Angy credited store managers Ryan Graham and Jason Buzard for rearranging the inventory with little disruption to the staff or the customer experience. The L.A. ReStore continues to sell building materials like tile and flooring, but those are now on the other side of the store.
All three ReStores have added flat-screen TVs near the register showing YouTube videos of recent Habitat home builds and events. The videos help people understand what their donation or purchase is going to support.
The Los Angeles ReStore is located at 1071 South La Brea Ave. in the Mid-Wilshire district of Los Angeles. Like our stores in Torrance and Bellflower, it's open every day from 8:30 am to 7:30 pm. You can also schedule a pickup for donations of large gently used items like furniture and appliances by calling 424-246-3687.