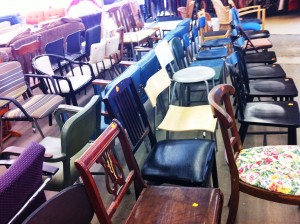 The ReStore is a social enterprise of Habitat for Humanity of Greater Los Angeles (HFH GLA).  It was established to be a self-sustaining funding source for HFH GLA and to provide our local community with low-cost building and home improvement materials.  The ReStore sells donated materials including new and gently used furniture, appliances, lumber, hardware, vintage and unique items to the public.  All prices are at least 50% off retail value and all proceeds from the ReStore are used toward the Habitat for Humanity mission to end substandard housing worldwide.
ReStore Fast Facts:
Since 2004, the HFH GLA ReStore in Gardena has helped divert over five million pounds of reusable materials from local area landfills.
Both the Gardena and Norwalk ReStore locations are "e-waste" collection sites.  Donations of television & computer monitors, computer towers/hard drives and other electronics help keep electronic waste from landfills and help HFH GLA fund building projects all over the greater Los Angeles area.
Trucks are sent out daily to pick up items all over Los Angeles.  To arrange a pick-up of your donation, please read about how to Donate Items.
The ReStore receives new, used, discontinued or surplus building materials, appliances and home furnishings from companies, contractors, retailers, film and television studios and individuals.
Frequently Asked Questions:
Q:  Can anyone shop at the ReStore?
A:  Yes!  Both ReStores are open to the public Tuesdays through Saturdays from 9am-6pm.
Q:  What is a social enterprise?
A:  Social enterprises are organizations or ventures (within an organization) that advance a social mission through entrepreneurial, earned income strategies.
Q:  Why aren't my goods given to Habitat for Humanity homeowners?
A:  The ReStores serve to earn money to purchase new, energy-rated appliances and goods for Habitat for Humanity homes.  Through re-selling items, needy families are given the opportunity to own new, never-before-used materials that will last longer and prevent high utility bills.
Q:  Where does the money go?
A:  The ReStores earn non-designated funds to be used by the Habitat for Humanity of Greater Los Angeles affiliate in our efforts to eliminate substandard housing.  Funds are used in many different ways, including but not limited to: purchasing new materials for Habitat for Humanity homes, landscaping on build sites and basic business needs.