Now more than ever, families need the security and stability of a decent home they can afford. The ripple effect from the global COVID-19 pandemic, has caused uncertainty worldwide. Too many families have felt this uncertainty for a lifetime, if not generations.
On April 1, 2020, Habitat for Humanity of Greater Los Angeles (Habitat LA) launched the COVID-19 Emergency Relief Fund to provide emergency food, essential items, and financial resources to those low and very low-income families in Greater Los Angeles who have been affected by COVID-19 due to sickness, loss of income or self-quarantine.
For many families "safer at home" is not as straightforward as it sounds. It is more than figuring out logistics and adjusting mindsets. It means additional time in houses that are not healthy because of leaks or mold. It means being in homes already overcrowded because it is the only way to afford rent in a too-small space. The spaces are shelter, but only just.
Many Los Angeles area households have lost their ability to earn income due to the closure of non-essential businesses. The families most at-risk are those that Habitat LA has served for 30 years – low-income, service or hospitality industry workers, single head of household, etc., many of whom already had inadequate financial reserves to weather a storm of this magnitude.  By partnering with local grocery stores, food banks and other social service agencies, Habitat LA's goal is to serve 1,000 households over the next five months by assisting them with rental assistance, household assistance with critical bills (medical expenses), household groceries or critical items through fundraising efforts and community collaborations.
You can help us help these families, these communities, our neighbors build back in one of the following ways:
1. COVID-19 Emergency Relief Fund
Help ensure stability and wellness continues to be within reach for hardworking families by supporting our fund.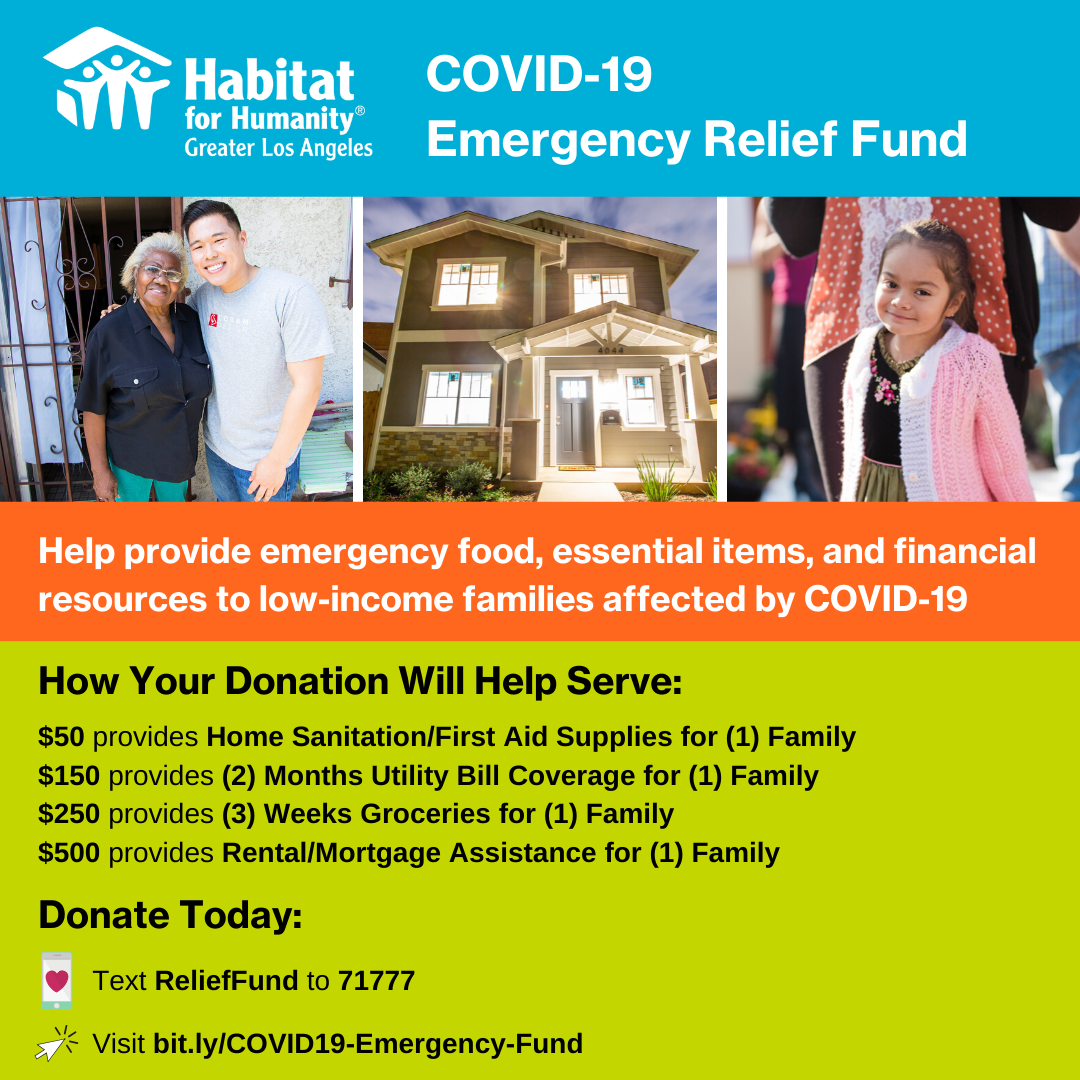 We are working to address the immediate need to help our community access personal protective equipment to help keep them safe. With your support, every mask can save multiple lives. Our goal is to distribute 10,000 hospital-grade face masks and other PPE to frontline health care, emergency service and social service agency workers. To make a tax-deductible contribution today or start a team to help spread the word, DONATE HERE.
3. A Message to our Homeowners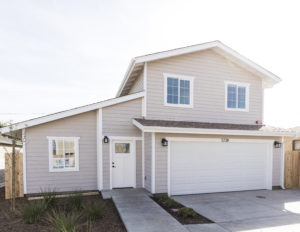 To our valued Habitat LA Partner Homeowners, we recognize this is a stressful time for you and your family, and you may need assistance with your mortgage loan. We are here to support and guide you. To learn more, please read A Message to Our Homeowners (Para información en español, haga clic aqui)
Our Good Work in Action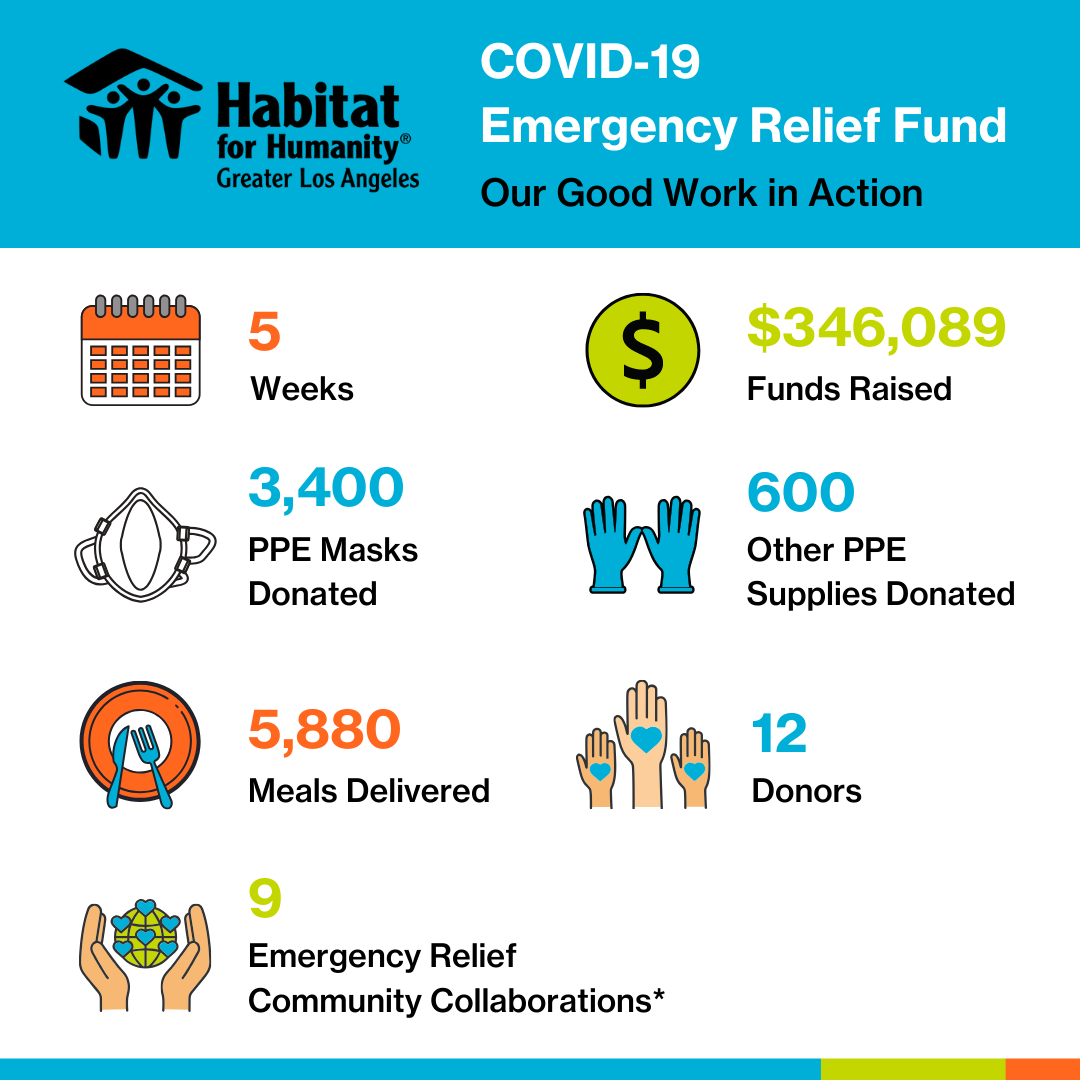 Together, we are better. Thank you to our generous donors!
Archdiocese of Los Angeles
California Community Foundation
Habitat for Humanity International
HK Charitable of the Renaissance Charitable Foundation
Johnson & Johnson
Long Beach Community Foundation
Lowe's Company Inc.
Robert W Johnson Foundation
Rudolf J. & Daphne A. Munzer Foundation
Scott Boxenbaum
Various Donors to Mask Ask Campaign
Wells Fargo
See examples of our good work in action through our Emergency Relief Community Collaborations with:
To learn how to get involved, visit Habitat LA COVID-19 Emergency Relief Fund.