LaTonya Thompson will receive keys to Long Beach home during dedication ceremony on Saturday, August 23rd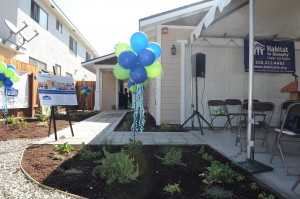 Los Angeles, CA – August 22, 2014: On Saturday, August 23rd, Habitat for Humanity of Greater Los Angeles (Habitat LA) will celebrate its 500th locally completed home during a dedication ceremony for new partner homebuyer and single mother LaTonya Thompson. Ms. Thompson's future home has been named the Disciple's House, having been built and partially funded by volunteers from several area churches.
Attendees for Saturday's event will include Long Beach city officials, staff, volunteers and representatives from supporting partners Lowe's and Giveback Homes.
Ms. Thompson has partnered with Habitat LA to purchase the newly constructed Long Beach home. All Habitat LA partner families participate in mandatory homeowner education classes and give up to 500 hours of sweat equity building their home and other Habitat LA homes.
Framing for the home began in March during a special volunteer initiative at the Lowe's of Central Long Beach. The event helped launch "Hammers for Habitat," a nationwide volunteer drive led by Habitat for Humanity International and Lowe's to get more hands on hammers to help Habitat reach its goal of serving one million people annually by 2018.
"This is a special home as it marks a major milestone for our mission here in greater Los Angeles," says Erin Rank, president and CEO, Habitat LA. "We are incredibly proud to serve partner homebuyers like LaTonya because we see firsthand how a home can transform a family's life for generations. Every home we dedicate is special to us and to be celebrating our ability to serve 500 families and counting, here in greater Los Angeles is an absolute blessing."
Volunteers from several local churches, representing varying denominations, made donations and came together to help build the Disciple's House over the past year.
These Long Beach Churches Include
· American Martyrs Catholic Church
· Bay Shore Community Congregational Church
· Deanery 8 of the Episcopal Diocese of Los Angeles
· First Congregational Church of Long Beach
· Grace First Presbyterian Church
· Long Beach Unitarian Church
· Manhattan Beach Community Church
· Pacific Crossroads
· Parkcrest Christian Church
· People's Independent Church of Christ
· Seaside Community Church
· St Luke's Lutheran Church
· West District of the United Methodist Church
· Westwood Presbyterian Church
Ms. Thompson is a single mother to son Onekieo and daughter LaMeisha and has worked for a major retailer for 13 years. She has enjoyed partnering with Habitat LA, learning new construction skills and making friends with volunteers while completing her sweat equity hours. "This home will be a place where my kids and I can feel safe regardless of what goes on in life," Ms. Thompson says.
Habitat for Humanity partners with volunteers, donors and people in need to build decent, sustainable and affordable homes. Approximately every five and a half minutes, a Habitat home is being built or renovated somewhere in the world, providing a hand up, not a hand out to partner homeowners.
Los Angeles County is still one of the least affordable places to live, and more than half of its residents live below the poverty level. Since 1990, Habitat LA has built and renovated more than 1,000 homes locally and internationally.
Habitat LA has been named an "Affiliate of Distinction" by Habitat for Humanity International and was recently named the Largest Non-Profit Residential Home Developer in Los Angeles, by the L.A. Business Journal's Book of Lists. In the past year, seven Habitat LA partner homeowners have paid off their mortgages, and the organization proudly boasts a less than one-percent default rate.
About Habitat for Humanity of Greater Los Angeles
Habitat for Humanity of Greater Los Angeles (Habitat LA) strives to eliminate substandard housing through advocacy, education and partnership with families and individuals in need to build decent, sustainable and affordable housing. Since 1990, Habitat LA has built and repaired more than 1,000 homes locally and worldwide, transforming the lives of hundreds of individuals.
Habitat LA is a GuideStar® Valued Partner and has achieved the coveted Charity Navigator 4-Star rating awarded to non-profits for sound fiscal management and commitment to accountability and transparency. For more information, please visit http://dev.habitatla.org or call 310-323-4663.
###
Media Contacts:
Jo-An Turman
Habitat LA
C: 310-749-6613
jturman@dev.habitatla.org
Angela Moore
Starfish PR
C: 310-429-8868
angela@starfish-pr.com