First Coalition Build Set for Saturday, July 19th in Lynwood, CA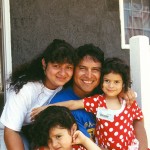 Los Angeles, CA – July 8, 2014: Habitat for Humanity of Greater Los Angeles (Habitat LA) has formed a new partnership with local Catholic churches and organizations, which it is calling the Catholic Coalition.
Through this partnership, volunteers from parishes and other affiliated organizations will join together for a common cause to make a significant impact on creating affordable and sustainable housing in the greater Los Angeles area.
The Coalition will help raise $150,000 – the cost of a full house sponsorship – and then help build the home during planned build days between summer and spring 2015.
"We are excited and proud to have the Catholic Coalition as a new partner and look forward to many years of building hope, lives and communities together," said Erin Rank, president and CEO, Habitat LA. "It's through partnerships like this, we are able to build more homes and provide the hand up our partner homebuyers need to achieve their dreams."
The first Habitat LA Catholic Coalition build day is set for Saturday, July 19, in Lynwood California. Parishioners and friends will gather at Magnolia Avenue, the seven-home neighborhood currently in progress in Lynwood.
The site will feature six homes that are two stories with three bedrooms and 2.5 baths and a three-bedroom, 1.5 bath single story home, which was designed by Michael Graves, a long-standing advocate for the disabled, to be handicap accessible.
Habitat LA's Faith Relations Manager Chris Untiet is spearheading the Catholic Coalition initiative. "Pope Francis has really inspired a new era of service and generosity.
It's wonderful to see this lived out among many greater Los Angeles Catholic parishes, that are rallying together to help families in need of affordable homes," said Untiet. "We're hoping even more will join the coalition in the months ahead."
Church groups or related organizations that are interested in participating in the Catholic Coalition can do so in a number of ways. In addition to organizing a day for volunteers (age 16 and up) to go onsite and help construct the home, there is always a need for people to help serve lunch to volunteers, to join planning committees, or lend a hand behind the scenes.
Habitat LA is encouraging its partners to educate youth about the need for affordable housing here in Los Angeles, and to help spread the word to other churches and organizations. Anyone interested in contributing can also make a donation online.
About Habitat for Humanity of Greater Los Angeles
Habitat for Humanity of Greater Los Angeles (Habitat LA) strives to eliminate substandard housing through advocacy, education and partnership with families and individuals in need to build decent, sustainable and affordable housing. Since 1990, Habitat LA has built and renovated more than 1,000 homes locally and worldwide, transforming the lives of hundreds of individuals. Habitat LA is a GuideStar® Valued Partner and has achieved the coveted Charity Navigator 4-Star rating awarded to non-profits for sound fiscal management and commitment to accountability and transparency. For more information, please visit www.habitatla.org or call 310-323-4663.
###
Media Contacts:
Jo-An Turman
Habitat LA
T: 424-246-3175
jturman@habitatla.org
Angela Moore
Starfish PR
C: 310-429-8868
angela@starfish-pr.com