Build Day & $75,000 Check Presentation Set for August 6th
Los Angeles, CA – August 5, 2014: Grifols, a global healthcare company dedicated to improving people's health and well being through the development of life-saving plasma medicines, diagnostics systems, and hospital pharmacy products, is partnering with Habitat for Humanity of Greater Los Angeles (Habitat LA) as a Half House Sponsor. The partnership will include a donation of $75,000, as well as company build days.
On August 6th, at the site of a seven-home neighborhood currently underway in Lynwood, Grifols volunteers will help with framing and conclude their day with the Grifols executive management team presenting a check to Habitat Los Angeles President and CEO, Erin Rank.

The funding will help complete the seven affordable and sustainable homes currently under construction in Lynwood. The site will feature six homes that are two stories with three bedrooms and 2.5 baths and a three-bedroom, 1.5 bath single story home, which was designed by world-renowned architect Michael Graves, a long-standing advocate for the disabled. The home will be handicap accessible.
"We welcome Grifols to our Habitat family and look forward to building something very special with them," said Erin Rank. "Their support will not only help complete a house for a hard-working family – it will change that family's life for generations, while also transforming the lives of those who help build it. It's a tremendous gift to all!"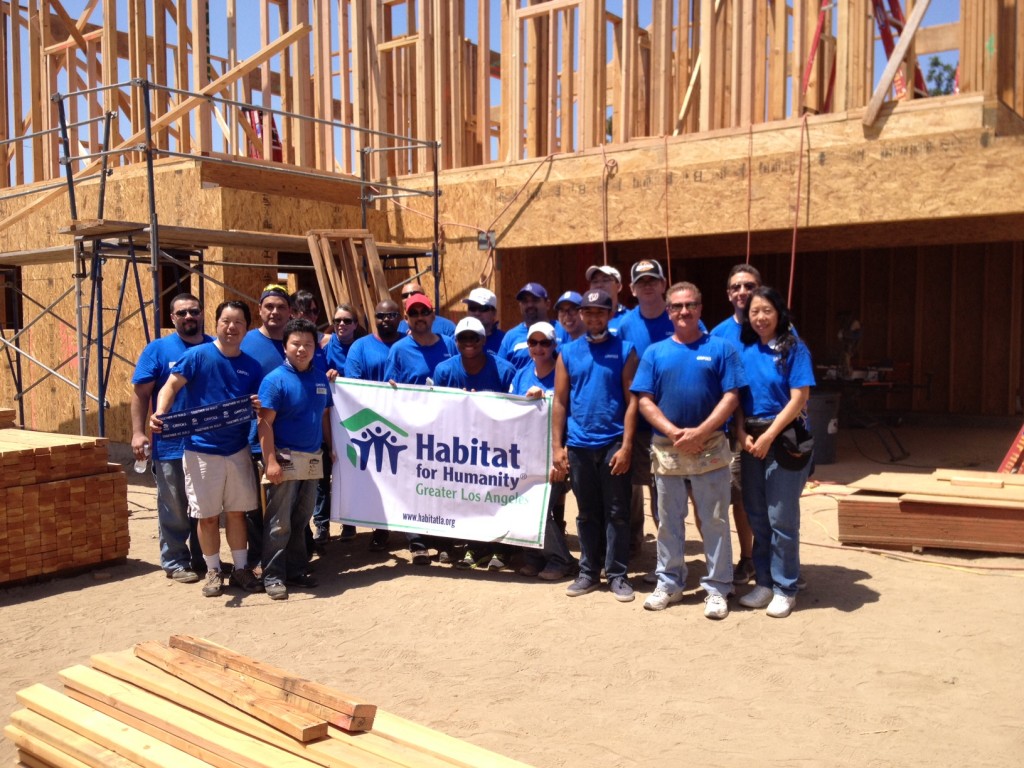 Grifols is a global healthcare company with nearly 13,200 employees in over 100 countries. Habitat LA was selected as a non-profit partner because its mission closely aligns with Grifols' company values.
"We support the mission of Habitat for Humanity wholeheartedly and are grateful to be able to serve our community in this way," said Gregory Rich, Grifols Inc., CEO. "This partnership provides a wonderful opportunity to engage our employees in community outreach efforts, promote teamwork within our departments, and provide an environment to learn new skills. We can't wait to get to work!"
Grifols is proud to support Habitat for Humanity nationally. In Raleigh, North Carolina, Grifols is working with Habitat for Humanity of Wake County to build a complete home with a $65,000 donation and multiple company build days.
Habitat for Humanity was founded on the premise that everyone deserves a decent and affordable place to call home. Hardworking families and individuals are offered a hand up, not a handout and must invest sweat equity hours to help build their home, as well as qualify for a zero-interest mortgage. In turn, their monthly mortgage payments enable Habitat for Humanity to build more homes and serve more families. Every five and a half minutes Habitat for Humanity serves a family in need of decent housing.
About Habitat for Humanity of Greater Los Angeles
Habitat for Humanity of Greater Los Angeles (Habitat LA) strives to eliminate substandard housing through advocacy, education and partnership with families and individuals in need to build decent, sustainable and affordable housing. Since 1990, Habitat LA has built and renovated more than 1,000 homes locally and worldwide, transforming the lives of hundreds of individuals. '
Habitat LA is a GuideStar® Valued Partner and has achieved the coveted Charity Navigator 4-Star rating awarded to non-profits for sound fiscal management and commitment to accountability and transparency. For more information, please visit http://habitatla.org or call 310-323-4663.
About Grifols
Grifols is a global healthcare company with a 70-year legacy of improving people's health and well being through the development of life-saving plasma medicines, diagnostics systems, and hospital pharmacy products
The company is present in more than 100 countries worldwide and is headquartered in Barcelona, Spain. Grifols is a leader in plasma collection with a network of 150 plasma donor centers in the U.S., and a leading producer of plasma-derived biological medicines. The company also provides a comprehensive range of transfusion medicine, hemostasis, and immunoassay solutions for clinical laboratories, blood banks and transfusion centers, and is a recognized leader in transfusion medicine.
In 2013, sales exceeded 2,740 million euros with a headcount of 13,200 employees. Grifols demonstrates its commitment to advancing healthcare by allocating a significant portion of its annual income to R&D.
The company's class A shares are listed on the Spanish Stock Exchange, where they are part of the Ibex-35 (MCE:GRF). Its non-voting class B shares are listed on the Mercado Continuo (MCE:GRF.P) and on the U.S. NASDAQ via ADRs (NASDAQ: GRFS). For more information visit www.grifols.com.
Media Contacts:
Jo-An Turman
Habitat LA
424-246-3175
jturman@habitatla.org
Angela Moore
Starfish PR
310-429-8868
angela@starfish-pr.com
Punkaj Amin
Grifols – Director of Communications for North America
919-316-6664
punkaj.amin@grifols.com