Kick-off Event Scheduled for Saturday, August 16th in Long Beach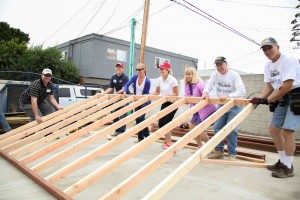 Los Angeles, CA – August 12, 2014: Habitat for Humanity of Greater Los Angeles (Habitat LA) will celebrate the ninth home in greater Los Angeles to be sponsored by Thrivent Financial, as well as officially kick off construction on Saturday, August 16.
This project would not be possible without the additional financial support of the City of Long Beach and The Long Beach Community Investment Company (LBCIC). Their involvement further demonstrates the City's strong commitment to affordable housing. Habitat LA will also receive support for this year's Thrivent Financial home through its Lutheran Coalition and local Lutheran congregations, who are contributing 50 percent of the volunteer hours and 10 percent of the funding needed to complete the home.
A presentation from 9:00 a.m. to 10:00 a.m. will include remarks from Habitat LA representatives, the introduction of partner homeowners, as well as representatives from Thrivent Financial, the City of Long Beach and The LBCIC, as well as the greater LA Lutheran Church Committee.
"It is incredible to be building our ninth home in partnership with Thrivent Financial," President/CEO of Habitat LA, Erin Rank said. "They have made such a difference, not just in the lives of our partner homeowners, but also with the huge impact on the congregations that come together to volunteer, and on the local communities in which they build."
This year's Thrivent Builds will provide a home for Ignacio Mimila and his four children. Homeownership has always been a dream for Ignacio and his late wife, who recently passed away from breast cancer. The home will be completed and dedicated just in time for the 2014 holiday season. Habitat for Humanity affiliates worldwide work to complete every Thrivent sponsored home by December.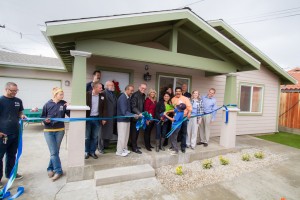 About Thrivent Financial
Thrivent Financial is a not-for-profit, Fortune 500 financial services membership organization helping approximately 2.5 million members achieve financial security and give back to their communities. Thrivent Builds with Habitat for Humanity is a multi-year, $200 million dollar partnership between Thrivent Financial and Habitat for Humanity International.
Thrivent Builds is designed to involve Thrivent members and Lutherans in helping provide a "hand up" to people in need of affordable housing. More than 4,300 homes in the U.S. and around the world have been built with the Thrivent Builds program.
About Habitat for Humanity of Greater Los Angeles
Habitat for Humanity of Greater Los Angeles (Habitat LA) strives to eliminate substandard housing through advocacy, education and partnership with families and individuals in need to build decent, sustainable and affordable housing. Since 1990, Habitat LA has built and repaired more than 1,000 homes locally and worldwide, transforming the lives of hundreds of individuals.
Habitat LA is a GuideStar® Valued Partner and has achieved the coveted Charity Navigator 4-Star rating awarded to non-profits for sound fiscal management and commitment to accountability and transparency. For more information, please visit www.habitatla.org or call 310-323-4663.
###
Media Contacts:
Jo-An Turman
Habitat for Humanity GLA
C: 310-749-6613
jturman@habitatla.org
Angela Moore
Starfish PR
C: 310-429-8868
angela@starfish-pr.com