Event builds upon City National's 20-year history of building resilient communities with Habitat LA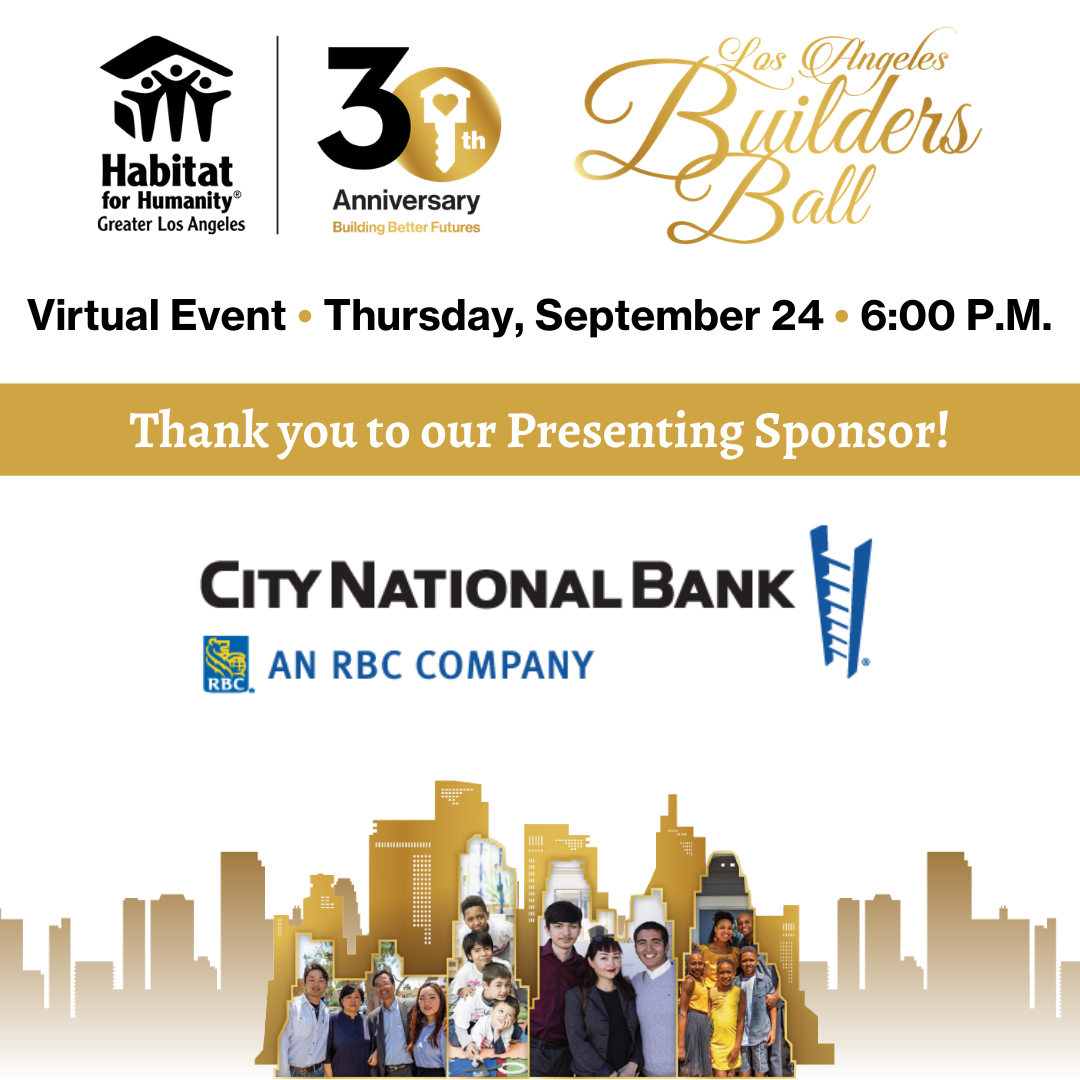 Los Angeles, CA – September 17, 2020: City National Bank, America's Premier Private and Business Bank®, announced their return for the second year as Presenting Sponsor for Habitat for Humanity of Greater Los Angeles' 2020 Los Angeles Builders Ball® . The annual event celebrates outstanding individuals and companies that share Habitat LA's commitment to revitalizing and transforming the landscape of Los Angeles. This year marks Habitat LA's 30th anniversary serving the greater Los Angeles community. In partnership with City National Bank, Habitat LA made the commitment of continuing to come together and raise funds and awareness for affordable housing solutions despite the challenges that arose from COVID-19. This year has been difficult for many, and it is abundantly clear that Habitat LA's work to provide families with safe, stable housing is needed more than ever. All funds raised from this year's virtual event will help Habitat LA continue to revitalize communities and empower low-income families and individuals by building the resilience needed for a brighter future.
The free event on Thursday September 24, 2020 at 6:00pm will be open for the first time to the entire community as Habitat LA honors three distinguished partners – all of whom have helped create long lasting change in our community: Turner Construction, Southern California Edison, and The Los Angeles Dodgers. The program will focus on community resilience and the ability to overcome adversity by turning negative challenges into positive outcomes. Since 1990, Habitat LA has worked to build resilient communities with the backing of long-standing partnerships such as City National Bank.
"Habitat LA is proud to be a long-time partner with City National Bank and we are grateful for their continued support of helping build a better future for generations of families in Los Angeles," said Erin Rank, President and CEO, Habitat LA.  "We share a commitment to helping our local communities thrive, even during these challenging times, and we are thrilled to have them returning as the presenting sponsor for our Los Angeles Builders Ball."
For 20 years, City National Bank has proudly partnered with Habitat for Humanity to affect real change – combating adversities and strengthening generations of families to create healthy communities. City National Bank's support has connected many communities across southern California, promoting resilience through financial and educational opportunities.
"City National Bank understands that our communities are the backbone of our future and we are here for them before, during and after the pandemic," said Linda Duncombe, Executive Vice President and Chief Marketing, Product and Digital Officer of City National Bank and board member for Habitat for Humanity of Greater Los Angeles. "When our communities thrive, we thrive too. The opportunity to positively impact people's lives in our communities is in our DNA and takes on an even greater meaning during this unprecedented time. That's why Habitat LA is a very important community partner to all of us at City National. Together, we help build better futures."
For years, the greater Los Angeles area has been plagued by economic inequality, particularly with regards to housing. According to the Los Angeles County 2020 Affordable Housing Needs Report, 509,404 low-income renter households in the county do not have access to an affordable home, and over 79% of cost-burdened households (extremely low-income) are paying more than half their income on housing costs compared to just 3% of moderate-income households. With a recent 15% decrease in state funding for affordable housing, coupled with an increase in severe household overcrowding, partnerships with City National Bank and others support elevating communities while retaining the essence of what makes the community unique.
Habitat LA partner families possess the strongest pillar of resilience – courage. Habitat LA families have shown the courage to not only address challenges but to also take responsibility for their future. Habitat LA offers families a hand up not a handout, because the most important part of resilience, is sustainability. Resilience does not stop with the purchase of an affordable home, but instead it continues for generations to come. To learn more about the event or to show your support, please visit https://www.habitatla.org/2020-los-angeles-builders-ball/
About Habitat for Humanity of Greater Los Angeles
Habitat for Humanity of Greater Los Angeles (Habitat LA) brings people together to build homes, communities and hope. As the top nonprofit residential homebuilder in the greater Los Angeles area with a Charity Navigator 4-Star rating for eight consecutive years and the Platinum GuideStar status for transparency, Habitat LA has partnered with volunteers, donors and Habitat homeowners to build, renovate and repair more than 1,000 homes locally since 1990. The lives of thousands of individuals have been transformed as a result of having a decent and affordable place to call home. Habitat homeowners help build their own homes and pay an affordable mortgage. By supporting Habitat LA through volunteerism, donations and supporting affordable housing, everyone can help families achieve the stability and self-reliance they need to build a better future. To learn more, visit www.habitatla.org.
About City National
With $70.3 billion in assets, City National Bank provides banking, investment and trust services through locations in Southern California, the San Francisco Bay Area, Nevada, New York City, Nashville, Atlanta, Minneapolis, Washington, D.C. and Miami*. In addition, the company and its investment affiliates manage or administer $81.3 billion in client investment assets.
City National is a subsidiary of Royal Bank of Canada (RBC), one of North America's leading diversified financial services companies. RBC serves more than 17 million personal, business, public sector and institutional clients through offices in Canada, the United States and 34 other countries.
For more information about City National, visit the company's website at cnb.com.
*City National Bank does business in Miami and the state of Florida as CN Bank.
# # #
Media Contact:
Genetric Brown
C: 310-808-5902