On September 24, 2020, Habitat for Humanity of Greater Los Angeles (Habitat LA) continued our commitment to bringing people together to raise funds and awareness for affordable housing solutions despite the challenges that arose from COVID-19 by hosting the first-ever virtual 2020 Los Angeles Builders Ball®, raising nearly $700,000!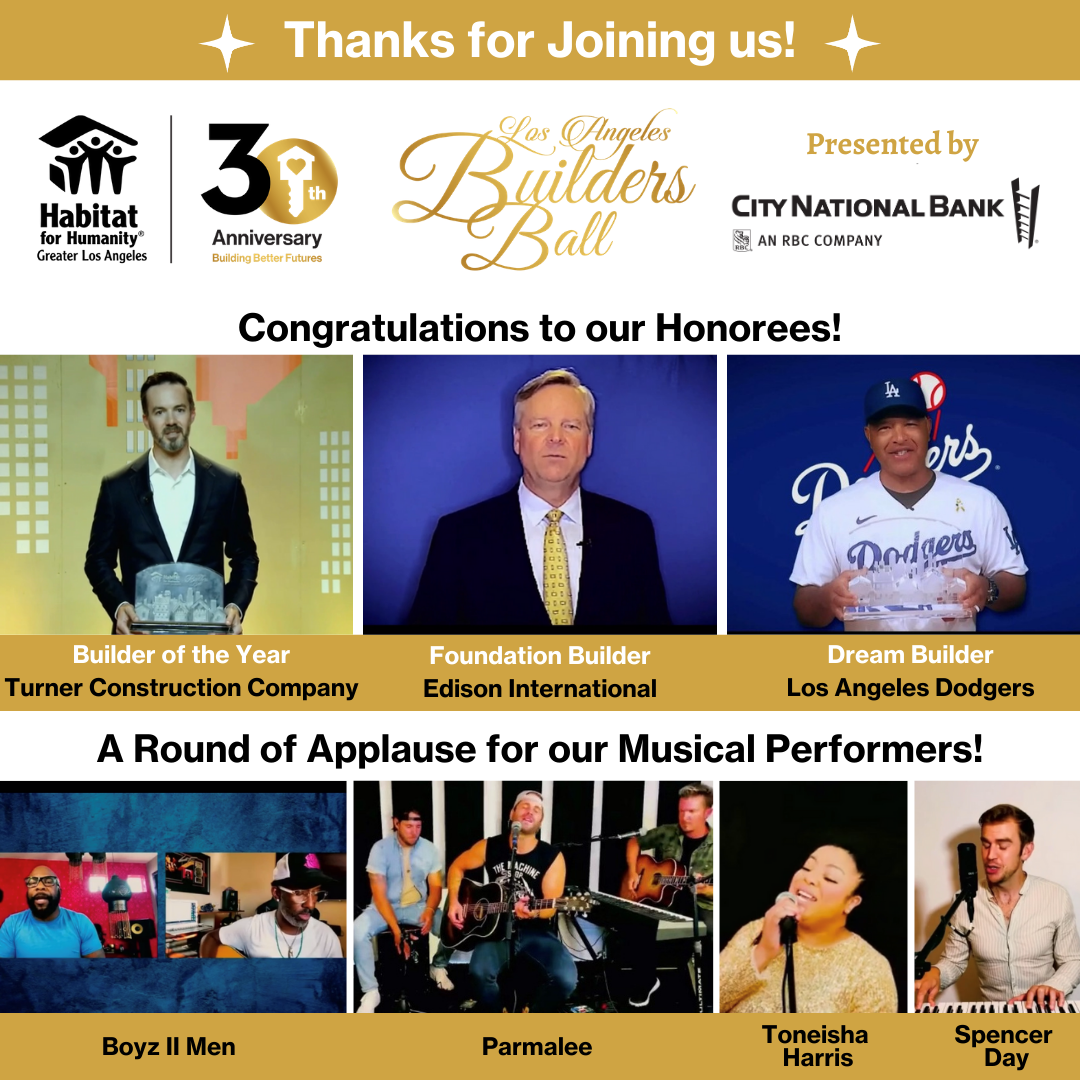 Sponsored for the second year by City National Bank, America's Premier Private and Business Bank®, Habitat LA's 2020 Los Angeles Builders Ball® virtual event celebrated outstanding individuals and companies that share Habitat LA's commitment to revitalizing and transforming the landscape of Los Angeles. The event was open to the entire Habitat LA community as we honored three distinguished partners – all of whom have helped create long lasting change in our community: Turner Construction Company, Edison International, and The Los Angeles Dodgers.  The program focused on community resilience and the ability to overcome adversity by turning negative challenges into positive outcomes.
For thirty years, Habitat LA has partnered with supporters in the greater Los Angeles area to serve, revitalize and empower low-income families and individuals by building the resilience needed for a brighter future.
"Our work has required countless dollars from private and public supporters and gifts from people from all walks of life, as well as thousands upon thousands of volunteers from companies, congregations, civic groups and neighborhoods," said Erin Rank, President and CEO, Habitat LA. "Our supporters inspire me. Our families inspire me."
Habitat LA offers families a hand up not a handout, because the most important part of resilience, is sustainability. Resilience does not stop with the purchase of an affordable home, but instead it continues for generations to come.
Thank you to everyone who joined our virtual Los Angeles Builders Ball®! If you missed the party, you can watch now on our YouTube Channel. Information and details will be announced soon for the 2021 Los Angeles Builders Ball® on September 23, 2021.
Official sponsors of the 2020 Los Angeles Builders Ball®