Planned Giving
For over 25 years Habitat for Humanity of Greater Los Angeles (Habitat LA) has advocated for and built affordable homes in the greater Los Angeles community.
By making a planned gift, you can continue the strong partnership we have built and leave a lasting legacy. Your legacy can ensure that Habitat LA continues to provide decent, sustainable and affordable homes for hardworking families for generations to come. Planned gifts include gifts through your will, charitable gift annuities, charitable trusts, and gifts of life insurance. To learn more about the different giving options and potential tax advantages available to you, click HERE.
Consult with your financial advisor, attorney or accountant to consider the best options for you. If you have questions or would like to make your charitable intentions known, please contact Francesca DiBrito, SVP of Resource Development at (310) 323-4663, ext. 137 or via email.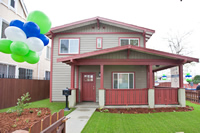 Francis Stevenson's legacy gift of real estate will give back to Habitat LA partner families in perpetuity.