---
---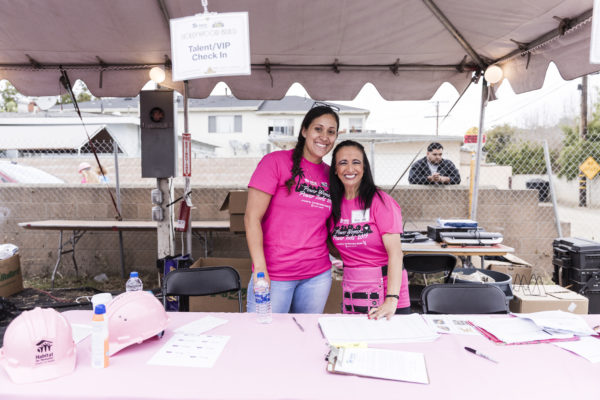 ---
Are you looking for a way to help in a non-construction type of activity and have a few hours to spare? Volunteers are needed in the following areas.  Contact our Volunteer Coordinator at
Anna Rubino
or (310) 991- 5805 for more information about any of these opportunities.
---
Events & Special Projects
---
Habitat LA hosts events and special projects year-round. Let us know if you have event planning experience or if you are interested in providing logistical support for events.
To lean more about our special events, click here!
---
---
Welcome volunteers to the construction site! We need your help in creating a welcoming environment for all volunteers. Site hosts are needed between 7:45 a.m. and 9:00 a.m., Wednesday through Saturdays at our build sites, and must be at least 16 years old. As a bonus, Site Hosts are welcome to stay onsite and build after their shift is complete!
Learn how to check-in volunteers on electronic devices, set up tables and chairs, and help maintain clean hard hats for our volunteer groups.
Individuals must complete one orientation day before they can become an official Site Host. Please contact Anna Rubino on how to get started.
---
---
Capture the work of our volunteers on the construction site, in the ReStore, and at special events on camera help us showcase the work of Habitat LA.  Volunteers must be at least 16 years old and have their own camera. Please contact
Anna Rubino
 for more information.
---
---
Assist in the daily operations of Habitat LA by tracking critical volunteer information, filing, doing data entry, and helping our departments as needed in a variety of tasks. We ask office volunteers to commit to volunteer regularly for two to three months.
---
---
Do you have a skill we have not asked about? Let us know. We could have the perfect volunteer opportunity for you.
If you are interested, please contact Anna Rubino.
---
---
Join the behind-the-scenes teams that make Habitat LA run! We are currently looking for people to serve on the following committees:
Marketing Committee
If you are a marketing professional or a PR specialist looking to give back with your skills, the Habitat LA Marketing & Communications Committee might be the place for you. We are looking for individuals who can commit to a monthly meeting along with investing time and energy into brainstorming, implementing, and leveraging relationships for affiliate campaigns and events.
Please contact Francesca DiBrito.
Special Events Committee
Habitat LA produces many special events and is looking for interested volunteers to commit to a monthly meeting as well as lending your expertise to be part of our "behind-the-scenes" crew at events throughout the year. If you're known for your party planning skills or have a knack for convincing people to donate to a good cause, then we want you!
Please contact Patty Lee.
---