World Habitat Day is a designated day each year that recognizes the basic right of all humanity to adequate shelter and encourages grass roots action toward enduring poverty housing. We are posting a series of blogs written from different perspectives that illustrate the importance of a world where everyone has a decent place to live.
Blog post by: Cordelia Green, Habitat for Humanity of Greater Los Angeles homeowner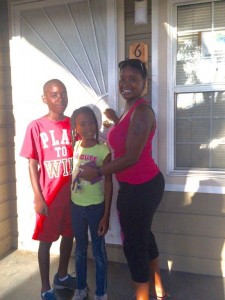 Homeownership is one of the biggest accomplishments that I have always wanted for myself and my two beautiful kids. I made a promise to myself that I would own my own home before I was 30 year old.
I fought hard for three and a half years with different realtors and different programs that didn't work out on my behalf as a single parent with one income. It wasn't till I found out about Habitat for Humanity of Greater Los Angeles (Habitat LA) that looking for a home would get a little better.
Habitat LA works with low-income families and individuals who one day want that American dream of owning a home. I worked hard to get everything in order to be a partner with Habitat LA.  The process took time and patience, but at the end of it all I am now a very happy, proud owner of my own home.
My kids and I love our new home and every new adventure that will happen in it. I wish I had all the words that could express all of our joy and the emotions that we have. It's more than just words that we have going on; it's the smiles we wear on our faces every day and the glow of our skin because we are full of happiness. I always tell my kids to never let anyone tell you that you can't do something because only you can make what you want to happen in your life. No one else can do that for you. I've shown them that anything is possible. Thank you so much Habitat LA and happy World Habitat Day.