More than 30 years ago, the United Nations General Assembly took an important step in promoting the idea that everyone deserves a decent place to live by declaring that the first Monday in October would be World Habitat Day. On World Habitat Day, Habitat for Humanity joined the United Nations and organizations around the world in raising awareness and in educating and mobilizing individuals and communities to take action on the current global housing challenge.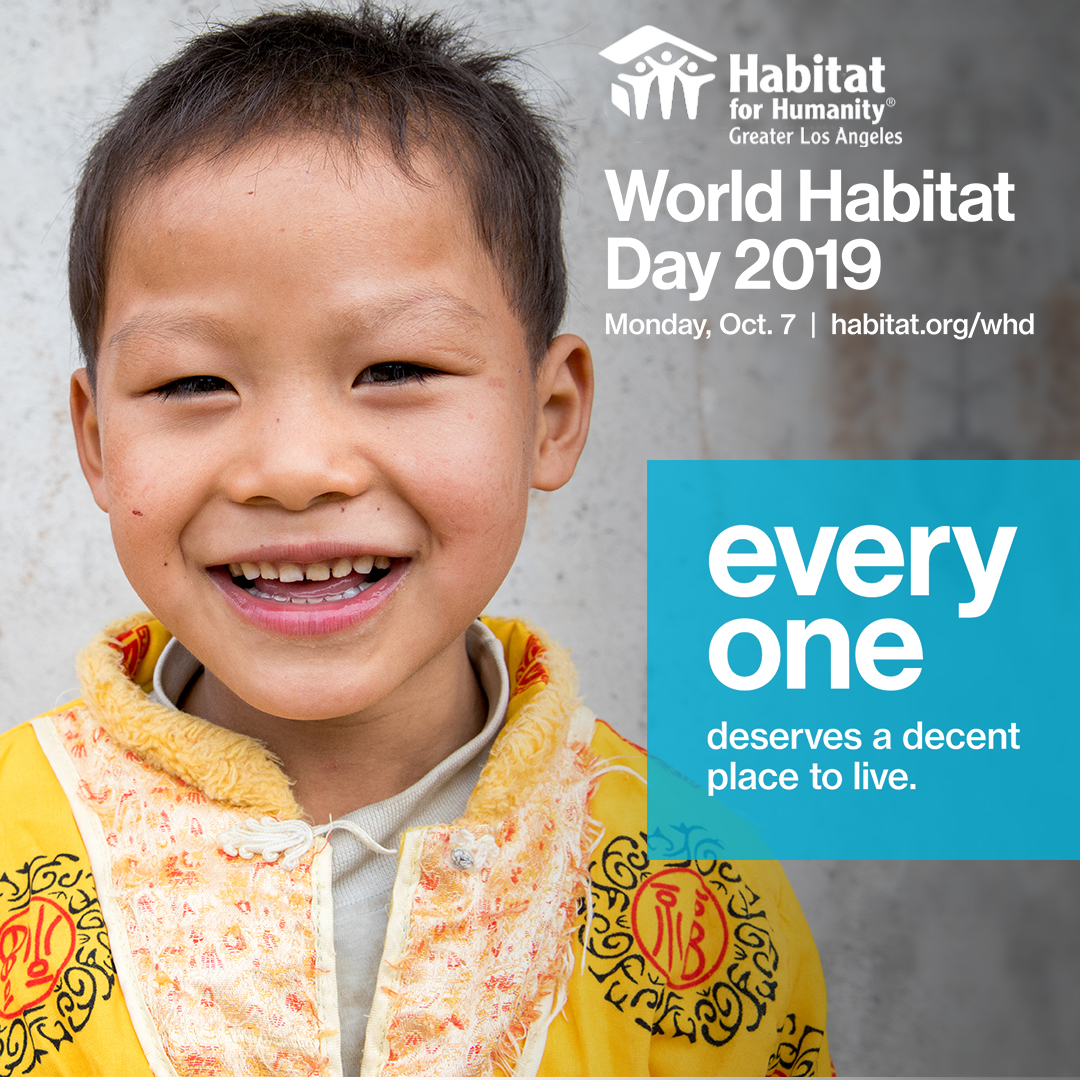 Did you know: Monday, October 7, 2019 was World Habitat Day – an annual day to recognize the importance of shelter. This annual recognition began in 1985 when the United Nations declared the first Monday of October of every year as World Habitat Day and was first celebrated in 1986 with the theme "Shelter is My Right" (United Nations "World Habitat Day Background"). Every year, Habitat for Humanity of Greater Los Angeles (Habitat LA) joins with our partners to recognizing the basic right to adequate shelter.
At Habitat LA, we believe decent housing plays a vital role in eliminating barriers to a better, healthier, more financially stable life. 1 in 6 U.S. families pay half or more of their income on their rent or mortgage, often making tough choices between housing and nutritious food, reliable transportation or even life-saving medicine.
It's not too late to celebrate World Habitat Day and support – Join us year-round by lifting your voice and taking action to help people in need of decent and affordable housing.
Let's align and amplify our collective voice to communicate that:
Every one of us deserves the opportunity for a better future.
A decent place to live can remove barriers to opportunity, health and success that might have been part of a family's life for years and in many cases for generations.
It is unacceptable that more than 18 million U.S. households pay half or more of their income on a place to live.
Learn how you can take action through our Habitat LA ReStores and Cost of Home advocacy campaign to support Habitat's vision of a world where everyone has a decent place to live.