Guest Blog Post by Mia Joiner, Wells Fargo Customer Service Representative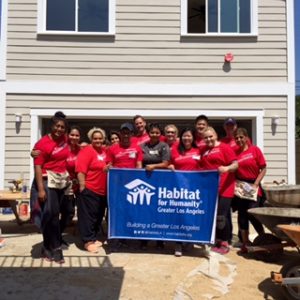 We had the HONOR of working side by side with one of the future homeowners, Tamara Lindsey. She is a Navy Vet who found herself homeless when she returned from duty. With the help of her Social Worker, and Habitat for Humanity of Greater Los Angeles, she will now be purchasing a new home she can afford.
There are no words, or pictures that can capture the experience we had, and I thank you to Habitat LA and my colleagues for the memories I will never forget. It was such a pleasure to get to know all of you during this experience. Even though we are coworkers, these experiences leave me feeling that we have bonded for a greater good.
We are looking forward to our next Wells Fargo build day in January on a new Habitat LA site in Culver City.