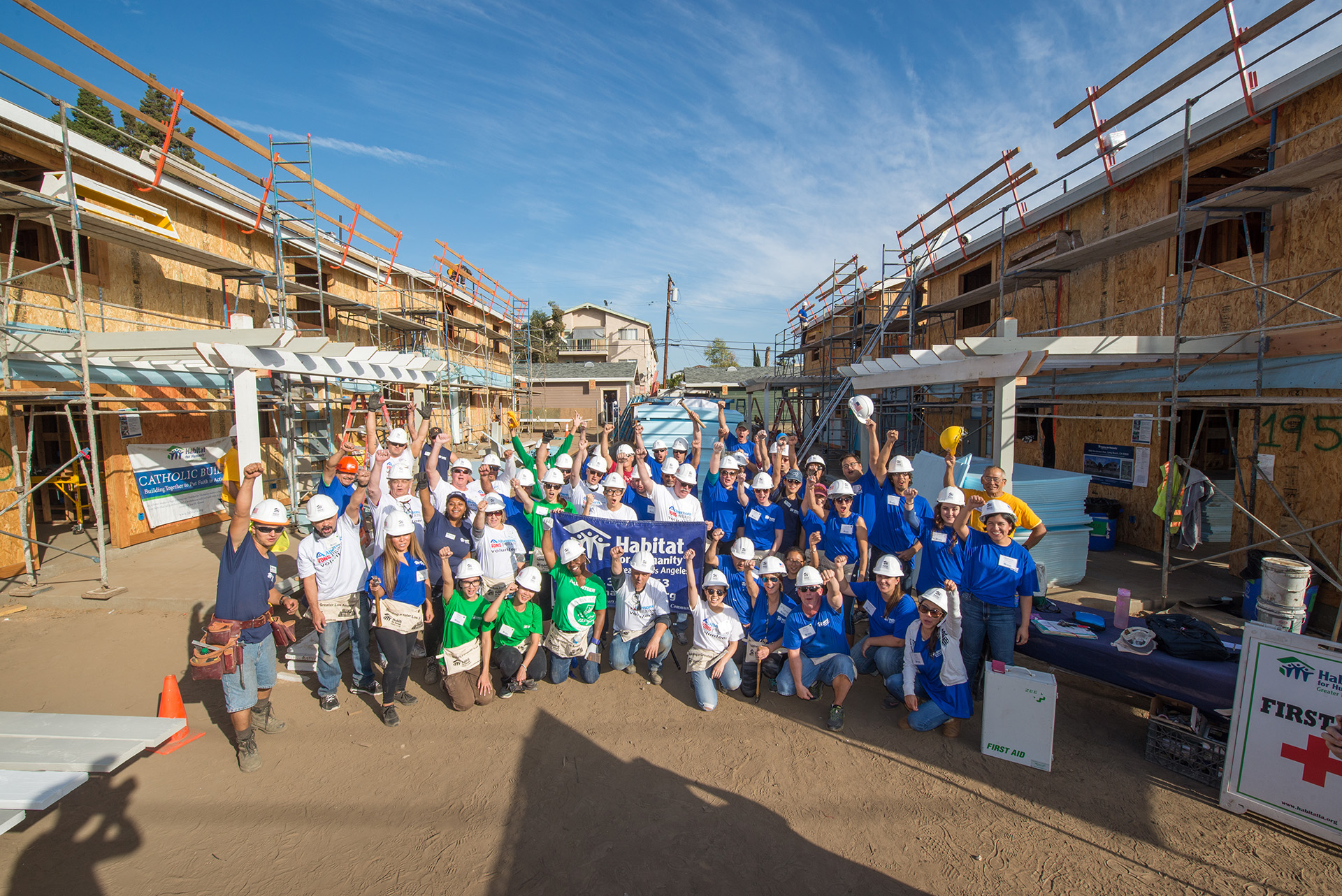 "Nearly one million veterans are burdened by rising living costs and the struggle to assimilate to civilian life. Through our Habitat for Heroes program, we are committed to easing this burden through affordable homeownership, critical home repairs and volunteer opportunities," says Erin Rank, President and CEO of Habitat LA. "It's an honor to help lessen the burden for the men and women who have served our country and we are delighted to be able to bring together so many volunteers to join us in this endeavor."
In recognition of Veterans Day, Habitat for Humanity of Greater Los Angeles (Habitat LA) brought together hundreds of volunteers and veterans to build four new, affordable homes and provide home repairs for existing homeowners and nonprofits in the Washington Neighborhood of Long Beach. The Veterans Build took place on Friday, November 10, between 8:30 a.m. and 4:00 p.m. and participants included veteran volunteers from The Albertsons Companies Foundation and The Vons Foundation, Team Rubicon, USC Students Veterans Association, California State University Long Beach Student Veteran Association, City of Long Beach Veterans Commission, The Mission Continues and Palisades American Legion. Active military from the local United States Air Force and Coast Guard bases also participated.
The Veterans Build is a signature event for Habitat LA that highlights its veteran outreach initiative, Habitat for Heroes. This initiative is aimed at building and repairing homes in partnership with U.S. veterans and their families, as well as engaging them in Habitat LA's work Building a Greater Los Angeles. Since 2011, thousands of veterans have volunteered and more than 150 individuals have been served through Habitat LA's home preservation and homeownership programs.
The Albertsons Companies Foundation and The Vons Foundation have worked with Habitat LA since 2012 to serve veterans and strengthen communities throughout greater Los Angeles. For the third year the company was the Veterans Build title sponsor, providing both financial and volunteer support.  Additional sponsors for this event included Altisource, Paradigm Talent Agency, the NBC show "Timeless" and Westfield Corporation.
"We are very supportive of our veteran community, and are proud to partner with organizations like Habitat LA who work so hard to make such a great impact on our community," says Shane Dorcheus, President, Southern California, The Albertsons Companies. "With so many veteran employees and customers, it is important that we take time to honor their dedication and serve them as they have served us."