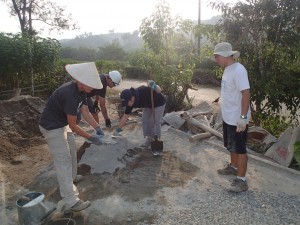 "Adventure is in our blood, and so it comes as no surprise to those that know us that we would all sign up for a Habitat for Humanity build in Vietnam," said Christie Walker, co-owner of Urban Adventure Quest.  "It also seemed appropriate that the owners of a company called Urban Adventure Quest would want to travel to Vietnam on a grand adventure to participate in the works of this non-profit instead of just writing a check."
So in October of 2014, sister-in-laws Tami and Christie Walker, and Christie's husband Robbie Bos, the three owners of Urban Adventure Quest, joined Tami's husband Ken— a long time board member with Habitat for Humanity of Greater LA (Habitat LA)— as they left the comforts of Southern California  to experience firsthand the partnership between homeowners, volunteers and Habitat for Humanity, as they endeavored to build two homes in one week.
As part of a team of 24 people from the Habitat LA, the Urban Adventure Quest team traveled to Hanoi in northern Vietnam. From there, they were bused to the city of Hoa Binh, the capital of the province located 76 kilometers west of Hanoi, to a hotel that would act as their base camp.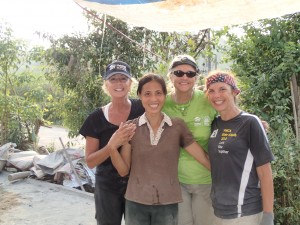 Each morning, the group would take another, smaller bus, further into the country to a farming community where they were divided into two teams to work on two homes. The two families worked alongside the volunteers every step of the way and with the help of interpreters were able to communicate and share stories about their lives.
"I won't lie. The work was hard with a capital H.  It was hot, humid and did I say hard? There were basically two jobs…mixing mortar by hand, or laying block. But each day, our block home would rise up from the dirt, block-by-block, row-by-row, until on day number five, we had an actual house," explained Christie. "The homeowners worked harder than we did. If I carried two blocks, our homeowner would carry three, and she never broke a sweat. I started sweating the moment I stepped off the bus!"
The housewarming ceremonies for each family were punctuated by smiles and tears as the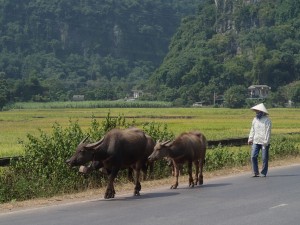 homeowners were presented a basket of household items purchased by the volunteers and a framed picture of the team that helped build their new home."
It wasn't all work and no play either. Each night after a well-deserved shower, volunteers and Habitat LA staff would gather together to enjoy the wide variety of scrumptious dishes from Vietnam and take part in cultural experiences including the music and dance of the culture.
"I thought with all the hard work I was going to be doing I'd lose some weight on this trip, but the food was so delicious, I actually gained a few pounds!" said Robbie.
"The scenery was picture perfect, spectacular and iconic. Each day as we were bused up into the mountains to the build site, I would press my face against the cold glass of the window and watch as Vietnam's iconic scenery passed by:  jungle-covered limestone karsts jutting up into the sky;  peaceful rice paddies with the harvesters wearing conical straw hats as they welded sharp blades to cut and bundled the rice; water buffalo taking their time as they crossed the street to a new field;  children flashing the peace sign as we drive by; street vendors selling everything from fresh vegetable to shoes; and every variety of moped, cart, and bicycle loaded with people or goods or both, sharing the highway with cars and buses," said Christie. "As a professional photographer, my only regret was I couldn't make the bus stop every time I wanted to take a picture."
This wasn't the team's first build with Habitat. Tami and her husband Ken built homes in Nepal.  Christie and her siblings participated in an international build in Cambodia, and Robbie worked on a local build in Los Angeles. Vietnam was the first time, however, that the entire Urban Adventure Quest team worked together on a build.
With so many non-profits, and so many great causes available why choose Habitat for Humanity?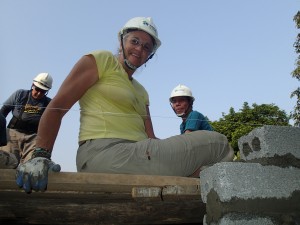 "Aside from believing in the basic premise of Habitat for Humanity that everyone deserves a decent home, we love the fact that with Habitat you can jump in and get your hands—literally—dirty, and see the results of your donation and volunteer time immediately," explained Tami.  "To build a home for a family and then turn over the "keys to the castle" to the new owners is very rewarding; much more so than just writing a check."
To put their money where their hands and hearts have been, Urban Adventure Quest will be donating 25% of ALL sales in the month of February to Habitat LA.  Use promo code HABITAT to receive a 20 percent discount off your purchase. Quests purchased in February can be played any time and never expire. Go to www.UrbanAdventure Quest.com for more information and purchase YOUR adventure while supporting a great cause.