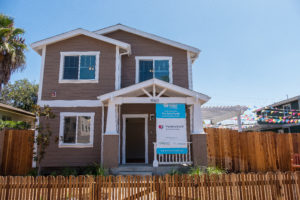 Habitat for Humanity of Greater Los Angeles (Habitat LA) in partnership with Thrivent Financial, completed one home in Long Beach in August and raised the first walls on another house in South Los Angeles in September.  In addition to underwriting construction of the two new residences, Thrivent's $300,000 donation will fund five home repair projects across Greater Los Angeles in 2018.
"We feel fortunate to be kicking off another home in partnership with Thrivent this year," said Erin Rank, President and CEO of Habitat LA.  "Just weeks ago we were celebrating the completion of a Thrivent home and witnessing the joy as the homeowners moved in. Thrivent and its members continue to have a significant impact on our community, as well as around the world. Their dedication to Habitat's mission is monumental, and we are grateful for their ongoing support."
"Thrivent is again thrilled to be partnering with Habitat LA on our 16th home built here locally.  Our vision is to live generously and we get the chance to do just that alongside hundreds of church volunteers," said Geoff Delahanty, Thrivent Financial Wealth Advisor.
Since the national partnership's inception in 2005, Thrivent Financial and its members have committed more than $240 million in donations, logged more than 5.2 million volunteer hours, and built or repaired more than 4,000 homes around the world. Thrivent remains the largest non-governmental supporter of Habitat for Humanity International.
For more information about Thrivent Builds programs, visit Thriventbuilds.com. To learn about local volunteer opportunities, visit here.