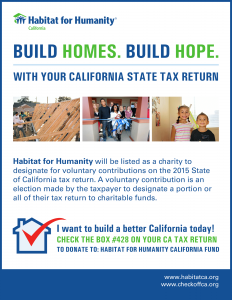 Help build a better California by supporting Habitat for Humanity California with your California State Tax Return. There are more than 100,000 non-profits in California and Habitat for Humanity is one of 20 that you can donate to by designating a contribution in box number 428 next to "Habitat for Humanity Fund." A voluntary contribution is an election made by the taxpayer to designate a portion or all of their tax return to charitable funds.
To donate:
1) Find the Voluntary Contributions list on your 540 CA tax return form. When filing online, you will be asked if you would like to contribute a portion of your return to a California fund.
2) Find box #428 "Habitat for Humanity Fund"
3) Simply designate how much you would like to donate and help us build homes and hope in California!
Tax return contributions go directly to the Habitat for Humanity Fund of California. Please spread the word and discuss with your accountant or financial adviser! Click HERE to download the file.