Home is the Key national movement in April addresses affordable housing needs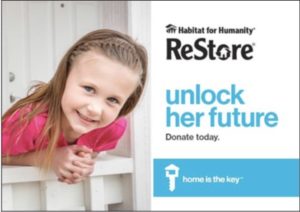 Los Angeles, CA — April 12, 2017: – One in every four households in the U.S. pay more than 30 percent of their income for housing and may have difficulty affording necessities such as food, clothing or medical care. In Greater Los Angeles, nearly 2 million Angelenos pay half of their income towards their rent. To address the critical need for affordable housing in the community and across the country, Habitat for Humanity of Greater Los Angeles (Habitat LA) is joining Home is the Key, a national campaign by Habitat for Humanity International aimed at highlighting the critical need for decent, affordable shelter throughout the month of April.
"We have seen firsthand how an affordable home can play a key role in positively influencing education, health, and financial opportunities for families and individuals," said Erin Rank, President and CEO, Habitat LA.
"Decent shelter is something we all need to thrive, and yet many still live in inadequate housing conditions. We invite our community in joining us in April and help us partner with even more homeowners in need of a hand up and a decent place to call home."
This month, when you shop in Habitat LA ReStores, you will have the opportunity to donate towards Building a Greater Los Angeles at your time of purchase. All funds raised will stay local to help build homes and hope in partnership with low-income families and individuals in the greater Los Angeles area.
Click here for ReStore locations and hours
Stay informed on all Habitat LA events and news. Visit habitatla.org, follow us on Twitter @HabitatLA and #BuildLA, Instagram @HabitatLA, and on Facebook.
About Habitat for Humanity of Greater Los Angeles
Habitat for Humanity of Greater Los Angeles (Habitat LA) brings people together to build homes, communities and hope. As the top nonprofit homebuilder in the greater Los Angeles area with five consecutive Charity Navigator 4-Star ratings, Habitat LA has partnered with volunteers, donors and Habitat homeowners to build, renovate and repair more than 1,200 homes locally and worldwide since 1990. The lives of thousands of individuals have been transformed as a result of having a decent and affordable place to call home. Habitat homeowners help build their own homes and pay an affordable mortgage. By supporting Habitat LA through volunteerism, donations and supporting affordable housing, everyone can help families achieve the stability and self-reliance they need to build a better future. To learn more, visit habitatla.org.
# # #
Contacts:
Yvonne Lara
Habitat LA
424-246-3187
ylara@habitatla.org
Angela Moore
Starfish P.R.
310-429-8868
angela@starfish-pr.com