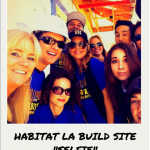 Do you love taking selfies? On Tuesday, October 14, come help us break a world record AND get the chance to trade in your DSLR for an award-winning Samsung NX30 or NX Mini SMART Camera! Join us at Hollywood & Highland as we try to win the Guinness World Record for most selfies taken in an hour!
Snapping photos right alongside you will be Nick Cannon, Julianne Hough and Habitat LA! After the world record is set, Samsung will present Habitat LA with a $50,000 contribution.
When: Tuesday, October 14
Where: Hollywood & Highland Center, 6801 Hollywood Blvd., Los Angeles 90028
Times: 10am – Consumer ditching begins
2pm – Registration for the World Record Attempt
3pm – Guinness World Record Attempt
4:30 – Habitat LA check presentation
Wear your Habitat LA t-shirt or hat as you join us in raising $50,000 all while making selfie history! Please also share on your own Facebook, Instagram or Twitter pages using @HabitatLA, @SamsungCameraUS and the hashtag #DitchTheDSLR. We love to share and repost!