Habitat LA and The Home Depot Foundation partner on critical home repairs
What happens when the house you bought together—where you raised children and where your grandchildren now spend their summers—begins to show its age? For Michelle and Phillip, who have owned their Palmdale, CA home since 1996, that time had come. "Our house looks like all is good," said Michelle, "but when you start checking the nooks and crannies, not everything is as it seems."
As anyone who's ever tackled home repairs can attest, they're seldom convenient. But Michelle's request to Habitat for Humanity of Greater Los Angeles was well-timed. When Habitat LA extended its Home Preservation program to include the Antelope Valley, the couple's Palmdale home was the first property in the area queued for repairs.
Originally from Jamaica, Queens, New York, Michelle arrived in California in 1979. She worked in finance for a variety of companies including a major airline, travel agency, bank, and data processing facility. Phillip, who is a veteran of the United States Army, served on several bases across the country—from Ft. Hood in Texas to Ft. Richardson and Ft. Wainwright in Alaska. During his years of service, Phillip played football and cooked for the Army. According to Michelle, Phillip loves to cook! Following his military career, he worked in local restaurants and later switched gears to the transportation industry. In fact, that's how they met. Her car broke down—and he was driving the commuter bus that picked her up.
When Michelle and Phillip purchased their home, they were just the second family to own the property. Built in 1991, the house was in good condition and they were dedicated to keeping up with the maintenance and repairs that every home requires. As a working couple, they tended to the house a little at a time. But as the pandemic swept through countless communities, Michelle, like so many others, lost her job. With Phillip out of work as well, "It just got out of hand."
That's what prompted Michelle to seek help—a search that ultimately led to Habitat LA. She began her search as most do, googling for what she needed: "Repair help for seniors." Describing herself as an alert senior, Michelle knew she needed to be aware. "A lot of times you get people who say 'yes' to anything but it turns out to be a scam."
After she confirmed that "Habitat was on the up and up" and "so nice," Michelle worked with the organization to schedule the work—installation of a new front door and a new, automatic garage door. In addition to the wear and tear on both, the front door was a security concern, and the original wooden garage door was just too heavy to lift.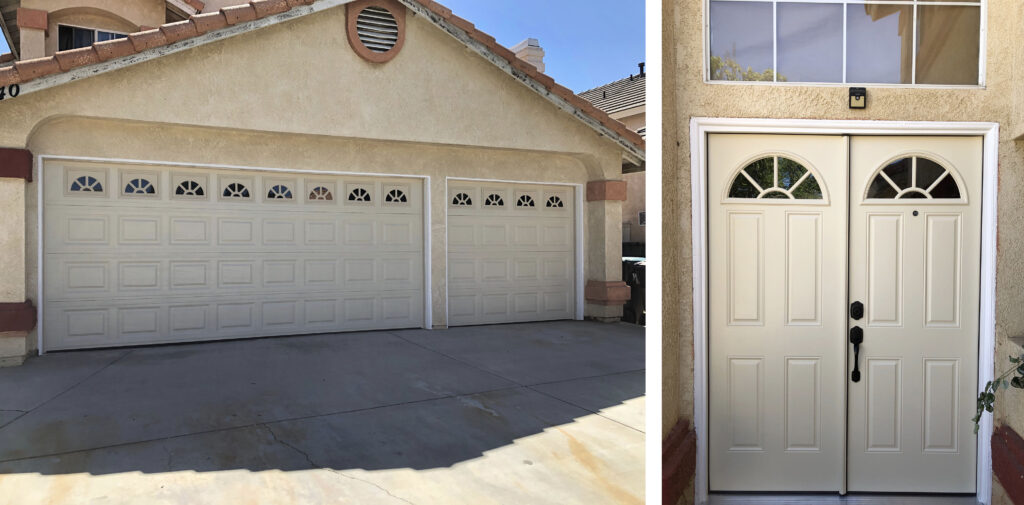 It's also about pride of place for the couple. Michelle quoted her father who taught her, "Always keep your home and your surroundings clean and well maintained." Photos of the new doors show that they're doing exactly that!
Habitat LA's Home Preservation program, which is open to eligible low-income homeowners in greater Los Angeles, has provided more than 800 families with health and safety related repairs since 2007.
Michelle and Phillip's repairs were generously funded by The Home Depot Foundation's Veteran Housing Grants program, which has provided Habitat LA with more than $2.7 million in funding since 2011, helping us provide more than 250 veteran households with critically needed repairs. Since 2011, the The Home Depot Foundation has invested more than $400 million in veteran causes and improved more than 50,000 veteran homes and facilities. The Foundation has pledged to invest half of a billion dollars in veteran causes by 2025 and $50 million in training the next generation of skilled tradespeople through the Path to Pro program. 
For more information on Habitat LA's Home Preservation program, including how to apply for assistance, please visit https://www.habitatla.org/how-to-apply/home-repair-program/