Home is a sanctuary. What happens when a leak nearly threatens the health of your home and loved ones? For Hurbert T. and his daughter Rebecca, an upstairs bathroom leak became an opportunity to save their home and take care of long overdue repairs. One day, the faulty plumbing gave out in their family bathroom, damaging the living room ceiling and carpet throughout their entire home. This led to critical health concerns like breathing in mildew and stepping on rotted wood and carpet.
"Because of the generosity from Habitat for Humanity, the dedicated and selfless volunteers, donors, construction team, and everyone behind the scenes, they have been able to improve not only the quality of our home, but also the quality of our lives."

– Hurbert T., homeowner.
When the damage became too much, Hurbert and Rebecca reached out to Habitat LA and applied for the Inglewood Home Preservation Grant. Our dedicated Community Development team went out to assess their home and pushed the call for support even further. "After seeing the horrible condition the carpet was in we partnered with Coram Design Center Inc., which is one of our committed flooring donors," said Iliana Gonzalez from Habitat LA, "Coram Design did an amazing flooring restoration, and the homeowner can now have health, safety and tranquility."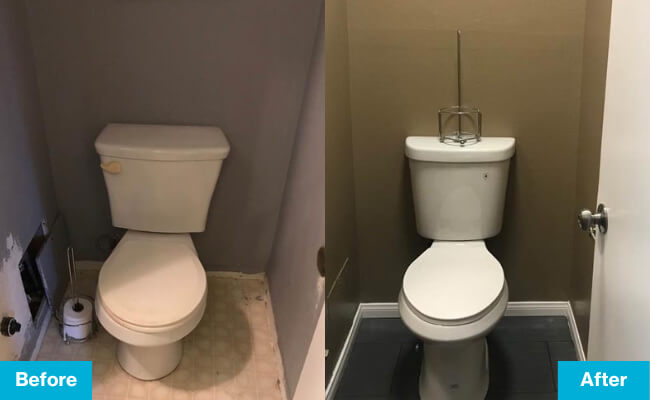 Within weeks, Coram Design completed the project, which would be owner Michael Chung's second donated flooring project with Habitat LA. They stripped away the old carpeted floors, removing mold, mildew, rotted wood and other areas affected by the bathroom leak. Habitat volunteers and our construction team also remodeled the outdated shower, toilet, vanity, and lighting, giving a modern touch that will last for years to come.
Being able to maintain and upkeep a home, from minor to major repairs is essential in preventing long-term damage and providing a healthy living environment. However, for Hurbert, making necessary yet costly repairs seemed impossible due to financial restraints. "These are repairs I have always wanted and needed to make, but financially have never been able to afford. I feel truly honored that my daughter and I were awarded this project, and were able to witness first-hand what you do for individuals and the community," Hurbert shared.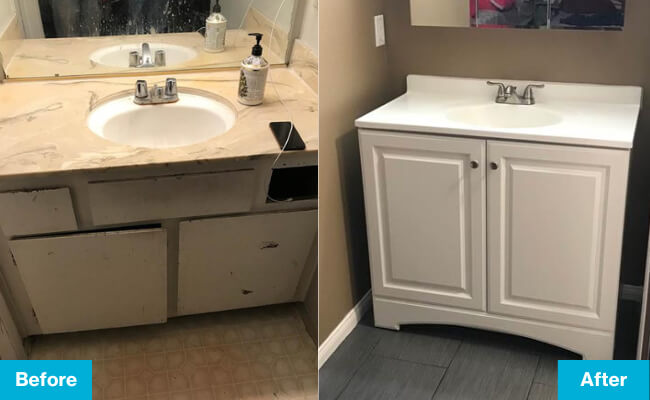 With their home renovations complete, Hurbet and his daughter can find comfort once again in a home restored and filled with their pride, freedom of expression, and care. "Thank you to Habitat for Humanity, because of you we can enjoy a nicer, more modern looking home, but most importantly a cleaner, safer home, free of mold, dust and allergens," Hurbert expressed in a thoughtful letter to our team. "The renewed pride I feel in owning my home is something I owe to you. I am still in awe of how beautifully everything came together, and the freedom to add personal touches in the process. What this organization does, promoting the importance of home repairs and providing the chance to lend those resources to lower income households, is essential and beneficial. Again, I feel honored to have been given this blessing and opportunity!
Habitat LA is grateful for the chance to help make this successful home repair possible! For more information, including how to apply for assistance, please visit our Home Preservation Program page. If you are interested in donating materials for critical home repairs, contact corporate@habitatla.org.