Though Physically Apart, Habitat LA Community is Still Building Together; Bringing Four More Families Home During COVID-19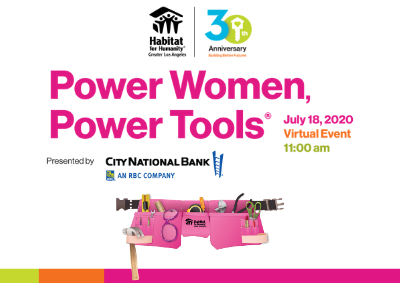 Los Angeles, CA – July 17, 2020: Habitat for Humanity of Greater Los Angeles' 2020 Power Women, Power Tools® goes virtual for the first time in 16 years, shifting from an in-person event to ensure the safety of the Habitat LA community, while still raising funds and awareness to bring hardworking families home during the COVID-19 global pandemic. Sponsored for the second year by City National Bank, America's Premier Private and Business Bank®, the first-ever live virtual event will be hosted on Habitat LA's website on Saturday, July 18, 2020 at 11:00 am. The event normally invites "power women" from different industries, including entertainment industry executives, celebrities, corporate leaders, government officials, faith leaders, and community to lend their time, talent, and to donate to a special build event, working side-by-side with current and future Habitat LA homeowners to help build their home. This year, the virtual event will allow everyone to participate and help build from home.
"Power Women, Power Tools® virtual event will look very different from our traditional event," said Erin Rank, President and CEO, Habitat LA. "But this change has afforded us the opportunity to gather with even more people from our community to help us make a bigger impact on affordable housing."
The Power Women, Power Tools® build was born out of the Hollywood for Habitat for Humanity program, which supports Habitat LA through donations, volunteer hours, and advocacy. This year's event aligns with Habitat LA's efforts to grow support during the global pandemic to help people realize the importance of home and what a difference it can make in the lives of a family. Last year's two-day event in Culver City on the site of our 10-home development and the location of Habitat LA's 1,000th home, attracted more than 300 volunteers and raised nearly $300,000 to help address the pressing need for affordable housing in Los Angeles. This year, the last four families of the Culver City site will be welcomed home with the support of the community. Through event challenges, an online auction, and special celebrity guest appearances; power women, men, and children will be able to help provide a hand-up, not a hand-out.
Official sponsors of the 2020 Power Women, Power Tools® include:
Presenting Level Sponsor
City National Bank
Los Angeles-based City National Bank offers a full complement of banking, trust and investment services through 72 offices, including 19 full-service regional centers, in Southern California, the San Francisco Bay Area, Nevada, New York City, Nashville, Atlanta, Minneapolis, Washington, D.C. and Miami.*
*City National Bank does business in Miami and the state of Florida as CN Bank
Builder Level Sponsors
Melanie Cook, Partner – Ziffren Brittenham LLP
Melanie Cook is an attorney at Ziffren Brittenham LLP and helps clients address Entertainment & Sports legal issues. She also assists clients regarding Intellectual Property issues.
Marni Rosenzweig – Rosenzweig Group LA
Marni Rosenzweig is the owner of The Rosenzweig Group, a talent management and production company offering a holistic approach to its development of a diverse roster of entertainment clientele.
Safety Sponsor
Neutrogena
Neutrogena®, the #1 Dermatologist Recommended skincare brand, offers some of the world's most loved beauty and skin care lines, and manufactures and markets products in over 70 countries.
Hammer and Nail Level Sponsors
Laserfiche
Laserfiche is the leading global provider of intelligent content management and business process automation. The Laserfiche® platform enables organizations in more than 80 countries to transform into digital businesses.
Los Angeles County Medical Association (LACMA)
Los Angeles County Medical Association (LACMA) is a professional organization representing physicians from every medical specialty and practice setting as well as students, interns and residents.
SUPERCHARGED by Kwanza Jones
SUPERCHARGED® by Kwanza Jones is a lifestyle brand and personal development app that builds your power, confidence and connections.
Official Honorary Committee of 2020 Power Women, Power Tools

For over 30 years, Habitat LA has built homes, hope and communities. With the support of community partners, donors and volunteers, the dream to homeownership can become a reality for many families. To learn more about the event or to show your support, please visit https://www.habitatla.org/2020-power-women-power-tools/
About Habitat for Humanity of Greater Los Angeles
Habitat for Humanity of Greater Los Angeles (Habitat LA) brings people together to build homes, communities and hope. As the top nonprofit residential homebuilder in the greater Los Angeles area with a Charity Navigator 4-Star rating for eight consecutive years and the Platinum GuideStar status for transparency, Habitat LA has partnered with volunteers, donors and Habitat homeowners to build, renovate and repair more than 1,000 homes locally since 1990. The lives of thousands of individuals have been transformed as a result of having a decent and affordable place to call home. Habitat homeowners help build their own homes and pay an affordable mortgage. By supporting Habitat LA through volunteerism, donations and supporting affordable housing, everyone can help families achieve the stability and self-reliance they need to build a better future. To learn more, visit www.habitatla.org.
# # #
Media Contact:
Genetric Brown
C: 310-808-5902
gbrown@habitatla.org