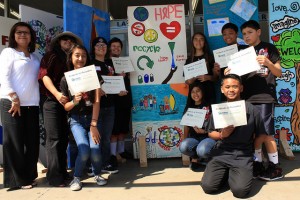 Local Youth Advocate for Affordable Housing with Habitat for Humanity of Greater Los Angeles during Act! Speak! Build! Week
Los Angeles, CA – April 9, 2014: In line with this year's theme, Habitat for Humanity of Greater Los Angeles (HFH GLA) sponsored "Opening the Doors to Change", a design activity and competition to kick off a national youth advocacy program, Act! Speak! Build! Week (ASBW), April 6-12, 2014. Students were asked to decorate a common door in a creative and artistic way to bring attention to the need for affordable housing and ASBW. Entrants submitted photos to HFH GLA and the winners were announced Saturday, April 5th during a special reception held at the Norwalk ReStore.
"Today's youth are incredibly passionate and connected, so engaging them to spread the message about the need for affordable housing is extremely powerful," said Erin Rank, president and CEO, HFH GLA. "We continue to be impressed by the creativity we see during Act! Speak! Build! Week and this year is no exception. All the participants are winners as far as we are concerned!"
With the help and support of LA's Best After School Enrichment program and other local schools, more than 1,200 youth participated in the door design activity entering a total of 43 doors. A panel of artists, affordable housing advocates, and volunteers judged the entries based on creativity, artistic quality, and originality. All of the doors will be on display at the Habitat ReStore in Norwalk throughout the week. Photos of entries are also available online here.
First place in the age group 13-18 from Stephen M. White Middle School grades 6-8:
Alysa Banker
Eden Del Santos
Jose Fuentes
Owen Ibanez
Liliana Monforte
Jeret Ranches
Ana Retana
Alexis Rodriguez
Terry Ross
Isabel Serrano
First place in the age group 5-12 from Valley View Elementary School grades 3-5:
Jasmine Alas-Castillo
Issac Amiel
Anthony Bekaryan
Arieh Belyavskiy
Sara Burke
Maxwell Carson
Damian Centeno
Marilyn Centeno
Maxwell Davila
Nathaniel Davila
Andrew Escobar
Zairi Giron
Edgar Hernandez
Sydney Manrique
Alexander Mkhitaryan
Sean Saavedra
Addam Saavedra
Joseph Salim
Kaiden Schroeder
Mia Teta
Silas Thorpe
Jordan Tolmaire
Second place in the age group 5-12 from Leo Politi Elementary School in grades 3-5:
Kenia Andrade
Kevin Benitez
Sharon Cruz
Dilan Flores
Madeline Gonzalez
Emely Herrera
Tanya Herrera
Lily Herrera
Oscar Linderos
Giselle Patino
Joshua Pimentel
Jesua Rodriguez
Anderson Rodriguez
Celeste Santos
Abraham Victoria
Cristhian Montiel
Third place winners in the age group 5-12 from Estrella Elementary School in grades 4-5:
Brenda Aviles
Jacsary Cortez
Stephanie Enlanche
Abdias Juan
Loraine Severino
Briana Vasquez
"Opening the Doors to Change" encouraged students to participate in ASBW, to advocate for affordable housing, and to urge California legislators to create a permanent source of funding for affordable housing. This year, HFH GLA is encouraging students to advocate for the passage of The California Homes and Jobs Act (SB391) and other bills that support and spur the creation of affordable housing.
ASBW is a national, student-initiated, advocacy program that empowers young people ages 5-25 to educate themselves about affordable housing issues and take action. Local schools and universities participate with Habitat for Humanity of Greater Los Angeles (HFH GLA) by planning and hosting an event or activity focused on ending poverty housing, raising social consciousness, and changing housing policy.
Habitat for Humanity was founded on the premise that everyone deserves a decent, affordable and sustainable place to call home. Hardworking families and individuals are offered a hand up, not a handout and must invest sweat equity hours to build their home, as well as qualify for a zero-interest mortgage. Every five minutes a Habitat for Humanity home is built or renovated somewhere in the world.
Follow @HabitatLA, @HabitatYouth and #ASBW2014
About Habitat for Humanity of Greater Los Angeles
Habitat for Humanity of Greater Los Angeles (HFH GLA) strives to eliminate substandard housing through advocacy, education and partnership with families and individuals in need to build decent, sustainable and affordable housing. Since 1990, HFH GLA has built and renovated more than 900 homes locally and worldwide, transforming the lives of hundreds of individuals. HFH GLA is a GuideStar® Valued Partner and has achieved the coveted Charity Navigator 4-Star rating awarded to non-profits for sound fiscal management and commitment to accountability and transparency. For more information, please visit http://habitatla.org or call 310-323-4663. Visit our blog at http://buildingagreaterla.blogspot.com.
###
Media Contacts:
Josh Butler
Habitat for Humanity GLA
O: 310-323-4664 ext. 314
jbutler@habitatla.org
Angela Moore
Starfish PR
C: 310-429-8868
angela@starfish-pr.com