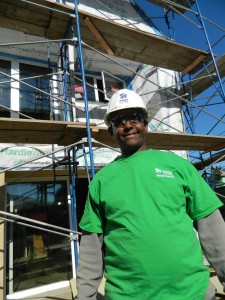 Not long ago, all Belete Belhu really wanted was a chance to work as a volunteer on a home-building project for Habitat for Humanity of Greater Los Angeles.
It seemed like a good way to gain some construction skills and also help a worthy family get a chance at homeownership — a dream he also shared.
But things have changed, a little, and for the good.
Today, Belhu, a native of Ethiopia and a U.S. Army veteran, finds himself doing a dream job — helping build a three-bedroom, two-story Habitat house. But this one is even more special, the future home for him and his family.
The house on 101st Street in the West Athens neighborhood just off Century Boulevard is about half completed. It will be a "green" house specially designed by students at the Southern California Institute of Architecture with everything from  solar panels on the roof to a system to recycle water from faucets to irrigate a garden in a ground-floor atrium.
Belhu, his wife Betelhem and daughters Sabella, 5, and Rodas, 6 months, today live in a cramped 450-square-foot apartment in Los Angeles, so the new house is eagerly anticipated.
"It is truly a dream come true," smiled Belhu, taking a break on a recent afternoon at the worksite.
When he's not taking classes in accounting, Belhu is performing 500 hours of work on this and other Habitat projects, part of the "sweat equity" down payment required of each homeowner.  Part of that work included four weeks working on another Habitat house recently completed next door.
He smiles often these days but it has not always been an easy life for him.  He left revolution-torn Ethiopia as a young man to study medicine in then-East Germany.  Later he traveled to Italy before arriving penniless in the United States in 1987.
Belhu attended a vocational school, was certified as a respiratory therapist and got a well-paying job.  He later joined an Army Reserve unit after a friend told him about the opportunities in the military.
"This country has given me everything so I wanted to pay back their goodness," he explained.
With the outbreak of hostilities in Kuwait, his unit was soon activated, and he spent six months on active duty in the Middle East as part of the U.S. intervention in Desert Storm.
Upon returning to civilian life, "I had seen too much blood," so he sought other employment.  He had only limited success in the computer tech field and was laid off.
"The funny thing is that in 2010, in October, after I had lost my job, I went to God and said that in five years I wanted to buy my own house," he said.
It was the last few days of September of this year  — almost five years to the day since setting that goal — he got word that he had been selected as the future owner of the 101st Street house.
He was a bit mystified when he first saw the plans for the long, fairly thin, creatively designed house. He thought it looked like an "ark" with few windows, but he's happy with it now that he's helping build it.
Large south-facing windows have overhangs shading the glass from the direct rays of the summer sun but are still exposed to get warmth from the sun in winter, improving energy-saving.  In addition to the atrium, the second story features an open deck with an expansive view of downtown Los Angeles and the mountains beyond on a clear day.
The project, which began Aug. 20, will include furniture donated by General Motors Foundation — pieces were created with materials from Habitat LA's ReStore during GMC's DIY Challenge.  The foundation has also donated funding, and its employees have committed to several workdays at the site.
The land was provided by the Los Angeles County Community Development Commission, while Supervisor Mark Ridley-Thomas and Bernards have also helped sponsor the project which is due to be completed shortly after the New Year.
Story by Joe Blackstock. Joe is a longtime supporter of Habitat for Humanity and retired reporter. His most recent position was with the Inland Valley Daily Bulletin.