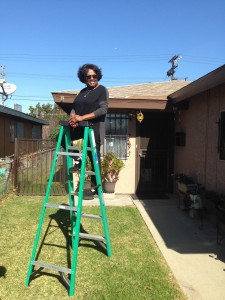 Mary Lawson is now prepared for anything that Nature throws her way — El Nino, hot weather, cold weather, termites and all of the challenges that can befall a homeowner, thanks to Habitat for Humanity of Los Angeles (Habitat LA).
A year ago, Mary was pestered by an annoying leak in the kitchen ceiling of the house she has lived in for 44 years in Los Angeles.  Unable to afford a new roof, she really had few options.
Coming to her rescue was Habitat LA, which not only builds houses for new homeowners, but also offers an assistance program for low-income residents whose homes are in need of repair.
Last July, volunteers with Habitat LA descended on her property, and 10 days later those termites and that leaky roof were no longer a worry.  What they installed on her freshly painted house was a reinforced roof composed of materials designed to cool the interior and a 17-panel solar array to reduce her electric bills.
"I have been greatly blessed by Habitat for Humanity," she said. "Their volunteers are great. They were very thoughtful and kind as they worked on my house."
Frustrated by her leaky ceiling, Mary learned about the Habitat LA Home Repair program through a friend who took her to fill out an application at the affiliate's headquarters in Bellflower.
In addition to Habitat LA volunteers doing much of the work (a firm was hired to tent the house for termites), the effort was in association with Climate Resolve, which works to meet climate challenges in Los Angeles, and GRID Alternatives, which partners with Southern California low-income residents to install solar energy systems.
Climate Resolve helped Habitat LA with the "cool roof", which is designed to reflect sunlight as well as reduce energy consumption and is now a requirement under Los Angeles' building codes.  Los Angeles, the first major city in the U.S. to require such roofing, also provided rebates to offset the cost.
One difficulty for Mary's house was the support structure for her roof was not strong enough to carry the additional weight of solar panels.  Habitat volunteers went ahead and strengthened the roof supports before putting on the "cool roof" materials and shingles. Then GRID Alternatives installed the solar panels.
The new roofing system should cut Mary's utility bills by 10 to 15 percent in addition to a 75 percent savings from the solar panels.
"I really appreciate the Habitat volunteers who were working on the hot roof," she said of those hot July workdays. "They were all so very enthusiastic."
And don't think it was just volunteers helping to upgrade her house — Mary will proudly tell you how she and granddaughter, Shariya Van Petten, joined the painting crew in putting a new coat of paint on her house.
"I've never painted the outside of the house.  It was a little harder painting on the rough stucco, but we made it work," she smiled.
Habitat LA partners with low-income residents whose homes are in need of repairs each year as funding becomes available.  Many of the households served by this program are veterans, seniors and individuals with disabilities. Homeowners must submit an application along with copies of documentation to establish eligibility.  Participant selection is based on funding, the need of the homeowner and condition of the home. For information on the home repair programs: 424-246-3640.
Story by Joe Blackstock. Joe is a longtime supporter of Habitat for Humanity and retired reporter. His most recent position was with the Inland Valley Daily Bulletin.