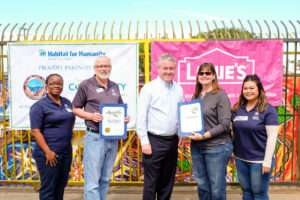 On February 25th, Lowe's employees made a big impact in the Washington neighborhood in Long Beach. Lowe's has been a valuable partner of Habitat LA for many years, providing much-needed funding, as well as materials and manpower.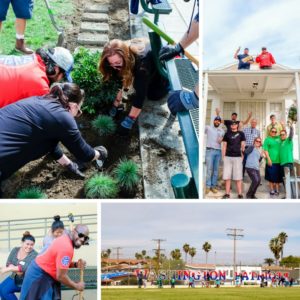 Nearly 100 Lowe's Heroes, as they are affectionately known, representing 16 Lowe's stores throughout Los Angeles, volunteered with us. The build day kicked off at the historic Packard building. Our President and CEO Erin Rank was joined by Lowe's Norwalk Store Manager Angy Smith to fire up the volunteers, who were tasked with an extensive landscape makeover at Washington Middle School and painting two homes in the neighborhood.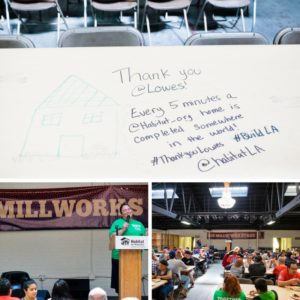 During a well-deserved lunch break, the volunteers were thanked by Washington MiddleSchool Principal Megan Traver, and heard from partner homebuyer, Tiffany Ortiz on her personal journey to homeownership. By the end of lunch, Lowe's Heroes were even more eager to get back to work!
Throughout the day we were honored to have some special advocates in attendance including Assemblyman Patrick O'Donnell, District 70, who presented a proclamation; Jennifer Kumiyama, representing Long Beach Councilwoman Lena Gonzalez, Council District 1; and Long Beach Unified School District Board Member, Felton Williams.
Thank you Lowe's and Lowe's Heroes for helping us Build a Greater Los Angeles!
To see all the photos from this wonderful event visit our Flickr page.