Members of the community are encouraged to donate Items, shop discounted merchandise and volunteer
Los Angeles, CA — January 19, 2018: Habitat for Humanity of Greater Los Angeles' (Habitat LA) ReStores sell low-cost building and home improvement materials to the community. In the ReStores, shoppers will find items such as new and gently used furniture, appliances, lumber, hardware, vintage and unique items. The Habitat LA ReStores are open to the public and prices are typically 50% off retail. All proceeds are used to help build strength, stability, self-reliance, and shelter in local communities and around the world. Since 2004, Habitat LA ReStores have helped divert over eight million pounds of reusable materials from local landfills.
In addition to offering the community affordable home improvement materials, Habitat LA ReStores also provide a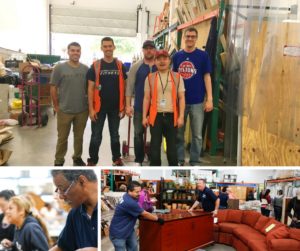 variety of volunteer opportunities. Volunteering with the ReStore is ideal for individuals interested in building furniture, repairing appliances, organizing merchandise, or simply looking to meet new people. With two locations in Bellflower and Torrance, and a third location scheduled to open in Los Angeles in Spring of 2018, volunteers are needed more than ever! Click here to volunteer now.
"Habitat LA ReStores are a combination thrift shop and home improvement store. People can find affordable, quality materials for their home, while helping us build more Habitat homes in the community," says Erin Rank, President and CEO, Habitat LA. "Because we receive items daily, there is a 'treasure hunt' appeal which customers seem to love. The ReStore also provides a fun and creative volunteer experience."
ReStores receive daily donations of new, used, discontinued or surplus building materials, appliances, and home furnishings from companies, contractors, retailers, film and television studios, and individuals. Click here to learn more about volunteering, business hours and locations, and to schedule a pick-up or call 424-246-3637.
About Habitat for Humanity of Greater Los Angeles
Habitat for Humanity of Greater Los Angeles (Habitat LA) brings people together to build homes, communities and hope. As the top nonprofit homebuilder in the greater Los Angeles area with six consecutive Charity Navigator 4-Star ratings, Habitat LA has partnered with volunteers, donors and Habitat homeowners to build, renovate and repair more than 1,300 homes locally and worldwide since 1990. The lives of thousands of individuals have been transformed as a result of having a decent and affordable place to call home. Habitat homeowners help build their own homes and pay an affordable mortgage. By supporting Habitat LA through volunteerism, donations and supporting affordable housing, everyone can help families achieve the stability and self-reliance they need to build a better future. The Habitat for Humanity ReStore is a social enterprise of Habitat for Humanity of Greater Los Angeles (Habitat LA).  It was established to be a self-sustaining funding source for Habitat LA and to provide our local community with low-cost building and home improvement materials. Items are typically sold for at least 50% off retail value and all proceeds from the ReStore are used toward the Habitat for Humanity mission to end substandard housing worldwide. There are currently two ReStore locations: 8739 E. Artesia Blvd, Bellflower, CA 90703 and 18600 Crenshaw Blvd, Torrance, CA 90504. To learn more, visit dev.habitatla.org
# # #
Contacts:
Jennifer Wise
Senior Vice President of Resource Development, Habitat LA
310-892-3769
jwise@habitatla.org
Angela Moore
Starfish P.R.
310-429-8868
angela@starfish-pr.com