"Opening the Doors to Change" Design Contest is One Way to Get Involved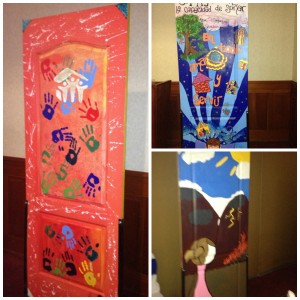 Los Angeles, CA – March 20, 2014: Act! Speak! Build! Week (ASBW) is a student-initiated advocacy program that empowers young people ages 5-25, not only to educate themselves about affordable housing issues, but also to take action. Habitat for Humanity affiliates around the country participate annually and this year ASBW will take place April 6-12.  Locally, schools and universities will participate with Habitat for Humanity of Greater Los Angeles (HFH GLA) by planning and hosting an event or activity focused on ending poverty housing, raising social consciousness, and changing housing policy. 
This year's theme is "Opening the Doors to Change."
"Opening the Doors to Change" encourages students to participate in ASBW, to advocate for affordable housing, and to urge California legislators to create a permanent source of funding for affordable housing.  In particular, HFH GLA will encourage students to advocate for the passage of The California Homes and Jobs Act (SB391) and other bills that encourage and spur the creation of affordable housing.
"Our goal is to engage a minimum of 500 students and to have them gain an increased understanding of the need for affordable housing, become better advocates and community leaders, and develop knowledge of the programs and services offered by Habitat for Humanity," says Erin Rank, president and CEO of HFH GLA.
In line with this year's theme, HFH GLA is sponsoring the "Opening the Doors to Change" Design Contest. Students are being asked to take a common door and decorate it in a creative and artistic way to bring attention to ASBW and the need for affordable housing. Tools and resources to support this activity are available here.
The completed doors may be strategically placed on campus or other gathering places to create conversation, generate interest and encourage photo sharing across social media.
It is not mandatory to participate in the contest, however, interested students must submit a photo of their door no later than March 21, 2014, to be eligible. A panel of artists; affordable housing advocates; and volunteers will judge the entries based on creativity, artistic quality, and originality.  First, Second and Third place winners will be selected from three age groups:  5-12, 13-18, and 19+. The winning entries will be displayed for public viewing during ASBW, April 6-12, 2014.
Habitat for Humanity was founded on the premise that everyone deserves a safe, decent, and affordable place to call home. Hardworking families and individuals are offered a hand up, not a handout and must invest sweat equity hours to build their home, as well as qualify for a zero-interest mortgage.  Every five minutes a Habitat for Humanity home is built or renovated somewhere in the world.
Follow @HabitatLA, @ASBW2014 @HabitatYouth
About Habitat for Humanity of Greater Los Angeles
Habitat for Humanity of Greater Los Angeles (HFH GLA) strives to eliminate substandard housing through advocacy, education and partnership with families and individuals in need to build decent, sustainable and affordable housing. Since 1990, HFH GLA has built and renovated more than 900 homes locally and worldwide, transforming the lives of hundreds of individuals. HFH GLA is a GuideStar® Valued Partner and has achieved the coveted Charity Navigator 4-Star rating awarded to non-profits for sound fiscal management and commitment to accountability and transparency. For more information, please visit http://habitatla.org or call 310-323-4663. Visit our blog at http://buildingagreaterla.blogspot.com.
###
Media Contacts:
Josh Butler
Habitat for Humanity GLA
O: 310-323-4663 ext. 314
C: 310-415-7281
Angela Moore
C: 310-429-8868