ReStore Donations Help Build a Greener and Greater Los Angeles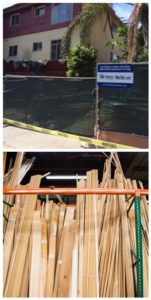 Los Angeles, CA. (September 13, 2016) – The Habitat for Humanity of Greater Los Angeles (Habitat LA) service area spans across 51 cities in Los Angeles and includes ReStore outlets in Torrance and Bellflower. Since July 2015, the ReStores have picked up more than 10,000 donations consisting of reusable materials such as windows, doors, lighting fixtures, hardware, appliances, kitchen cabinets, vanities, furniture, building materials and more. The donated items are sold to the general public at a reduced cost and net proceeds from ReStore sales are then used to fund Habitat LA's homeownership, home repair and neighborhood revitalization work. LA's booming real estate market coupled with state and city measures aimed at increasing waste diversion are currently driving business to Habitat LA's ReStores.
Homeowners, investors and developers are currently renovating and building at a rapid rate. Since January 2016, in LA County there have been more than 1,700 permits issued for new privately-owned residential buildings, totaling over $1.4 billion in construction costs. The potential for surplus and reusable materials to end up in landfills is great. In some regions of California construction and demolition wastes have approached 30% of landfill contents, according to the California Integrated Waste Management Board.
Many companies are partnering with Habitat LA's ReStores as a way to prevent unnecessary materials from becoming waste. "The City supports the efforts of Habitat for Humanity ReStores to divert materials from going to landfills," says LA Mayor Eric Garcetti. "We highly encourage builders, contractors and others to consider donating their reusable materials as a useful alternative to landfills."  Habitat LA was one of the first supporters of Mayor Garcetti's citywide sustainability pLAn, which was released in April of 2015. The ReStores have diverted more than eight million pounds of reusable materials from local landfills since 2004 and play an important role in Habitat LA and the City of LA's shared commitment to building a greener and greater LA.
A growing number of companies are counting environmental sustainability and social responsibility as core principles. Bradco Kitchens and Baths, a green design and remodeling company, and design+build by South Swell, a design and build firm, are frequent donors to the ReStore.  "Our relationship with Habitat for Humanity has been positive for us in so many ways," says Jessica Kienzl of Bradco Kitchens. "Instead of ending up in a landfill, our donations help pave the way for families on the path towards homeownership." Steve Lazar, principal at design+build by South Swell added, "With just one phone call, the ReStore trucks conveniently come to our building sites and collect everything from lumber and appliances to hardware. Knowing these materials will enjoy a second life while making someone's dreams come true is a win-win for all."
Choosing to donate materials from deconstruction and renovation projects can also affect a project's bottom line. Companies like the Deconstruction & ReUse Network work in conjunction with Habitat LA and property owners to funnel reusable materials carefully extracted from houses and buildings being torn down. "The owner receives a tax deduction that will reduce the net cost of the demolition work," says Dave McKechnie, Habitat LA's Vice President of Retail Operations. "We've had situations with large houses where the cost of some demolition work has been offset by the benefit of the tax deduction."
Habitat LA plans to grow with the thriving construction and deconstruction industries by adding additional ReStore locations throughout the greater Los Angeles area over the next five years. The new locations will help generate revenue for Habitat LA's $100 million Building a Greater Los Angeles campaign to transform local neighborhoods.  Habitat LA ReStores are always looking for donations of new and gently used items. Pickups are available. To schedule a donation pick-up, call 424-246-3637, or visit DonatetoHabitat.org.
About Habitat for Humanity of Greater Los Angeles
Habitat for Humanity of Greater Los Angeles (Habitat LA) brings people together to build homes, communities and hope. As the top nonprofit homebuilder in the greater Los Angeles area with five consecutive Charity Navigator 4-Star ratings, Habitat LA has partnered with volunteers, donors and Habitat homeowners to build, renovate and repair more than 1,000 homes locally and worldwide since 1990. The lives of thousands of individuals have been transformed as a result of having a decent and affordable place to call home. Habitat homeowners help build their own homes and pay an affordable mortgage. By supporting Habitat LA through volunteerism, donations and advocating for affordable housing, everyone can help families achieve the stability and self-reliance they need to build a better future. To learn more, visit habitatla.org.