Habitat LA recently partnered with the LA Kings to kick-off the NHL All Star weekend with a playhouse build and house framing event at Staples Center. Coordinating an off-site build event of this size is no small feat and once again our construction team knocked it out of the park arena!  
Luc Robitaille, LA Kings President of Business Operations kicked off the event by welcoming the volunteers and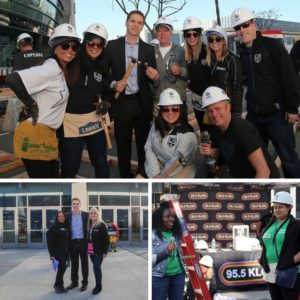 sharing his experience building with Habitat LA. The LA Kings organization did an amazing job of enlisting volunteers from within the LA Kings and AEG organizations, as well as dozens of LA Kings fans. There were over 100 volunteers in all who showed up early and stayed late.  They may have all had cold noses, but all we could see were their warm smiles!
LA Live and Staples Center were great hosts, shutting down Chick Hearn Court, which provided plenty of room to complete four uniquely decorated playhouses and frame walls for future Habitat LA Homes.  Several LAPD officers who were on hand to protect and serve found themselves building along with us!  The atmosphere was incredible and with each wall completed you could feel the love going into it.
During the delicious lunch break, catered by Wolfgang Puck Bar & Grill, our President & CEO Erin Rank spoke to the volunteers about Habitat for Humanity's mission and how one family's affordable mortgage helps fund another family's home.  Perhaps the most memorable moment was when two partner homebuyers Tiffany Yates and LaTora Nall shared their personal journeys with Habitat LA.
The playhouses turned out great and our large, flatbed truck was loaded with more framed walls than any of us anticipated! The volunteers had a memorable time and made a significant impact on many lives that day. They were the true All Stars that weekend!
A small Habitat structure and all four LA Kings themed playhouses were put on display at LA Live, where they remained for the duration of the NHL All Star Weekend. We consider it a blessing to have this type of support and a platform such as this to share our mission and bring awareness to the critical need for affordable housing around the world.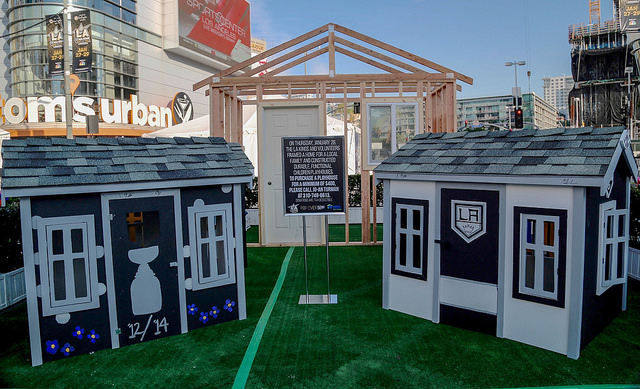 We thank the LA Kings and all the volunteers for another successful build event! Click here to view more photos fro this amazing day!