The La Cienega Design Quarter (LCDQ) has been a longtime supporter of Habitat LA's mission of Building a Greater Los Angeles, naming it as one of the beneficiaries of its annual LEGENDS event for many years and raising nearly $200,000 since 2012. During this year's LEGENDS event, held May 9-11, the design community raised nearly $25,000 to support affordable housing, through event ticket sales as well as 100% of the proceeds from the Color My World in-store and online campaign, hosted by Dragonette LTD.
The Color My World campaign was conceptualized by Doug and Gene Meyer in conjunction with Patrick Dragonette,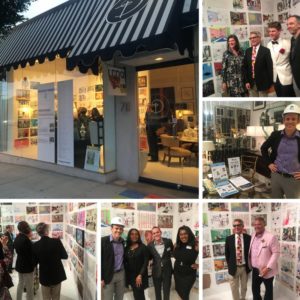 who hosted a VIP reception at his storefront, Dragonette LTD, on May 9th where guests could acquire an original artwork from internationally renowned designers and artists for a donation of $500 each. The identity of the designer/artist was revealed only after the work was purchased. Our Habitat LA staff in attendance were humbled by the generosity of Doug, Gene and Patrick as well as all of the attendees who not only purchased art but donated additional funds to help Habitat LA continue to build homes and hope in the greater Los Angeles area. Following the VIP reception, the remaining works were made available online until they sold out.
Participating artists and designers included Nate Berkus, Amy Sedaris, Mary McDonald, Lee Ledbetter, Trina Turk, Mark Badgley, James Mischka, Cynthia Rowley, and many more!
LEGENDS is a 3-day celebration of design that brings together thousands of VIPs and tastemakers from the worlds of interior design, decor, art, fashion and architecture. The LEGENDS 2017 theme "Your True Colors" was displayed in the 60+ windows of LCDQ member's shops, showrooms and galleries, expressing originality and diversity in the vignettes they created. LEGENDS continues to grow in popularity each year, with thousands traveling to Los Angeles to enjoy a Gala cocktail reception followed by two days of keynote panels, receptions, personal appearances, book signings, roundtables and exhibitions. Learn more here.
We are appreciative of the continued support of the design community and their commitment to raising awareness and funds to build more affordable homeownership opportunities in their city.