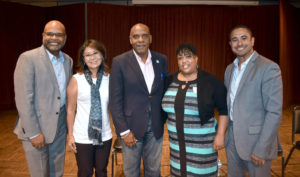 On Saturday June 23, Darrell Simien, Habitat for Humanity of Greater Los Angeles (Habitat LA) Senior Vice President of Community Development, contributed his expertise to a panel discussion during a housing summit and resource fair at El Camino College in Torrance.
The Keynote speaker was Senator Jim Beall, Chair of Housing Committee and author of the $4 billion housing bond on the November ballot.
Three panel discussions took place, on topics that included  keeping communities affordable and equitable, challenges and resources of affordable housing development and policy and legislative solutions for affordable housing.
Other panelists included:
Senator Steve Bradford
Senator Jim Beall
Sherri Franklin – Urban Design Center
Noreen McClendon – Concerned Citizens of South Central LA
Dalila Sotelo – Integral Development
Jackie Cornejo – Strategic Actions for a Just Economy
Lynn Katano – LA Community Development Commission
Sean Spear – LA Housing and Community Investment Department
Fred Howard – Keller Williams Realty