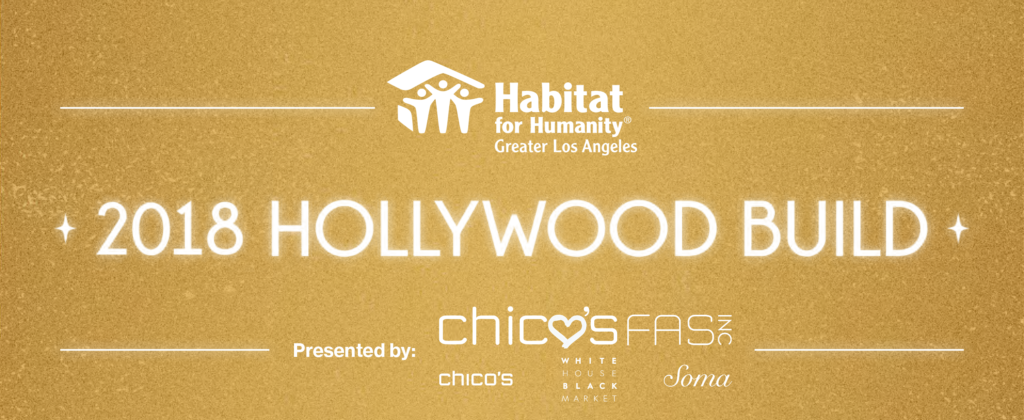 Habitat for Humanity of Greater Los Angeles (Habitat LA) is proud to announce its two-day 2018 Hollywood Build event on June 8 and 9 in Culver City, in partnership with lead sponsor Chico's FAS, Inc. and its family of brands – Chico's, White House Black Market and Soma.
Habitat LA is set to raise hammers, funds and awareness surrounding the pressing need for affordable housing in the greater Los Angeles area.  The 2018 Hollywood Build will bring together more than 400 volunteers with the Entertainment Industry Build on Friday, June 8th and the 14th annual Power Women, Power Tools® build on Saturday, June 9th.
Entertainment industry executives, celebrities, corporate leaders, government officials, faith groups and community stakeholders will work side-by-side with current and future Habitat LA homeowners. Specifically, participants will frame walls for a new 10 home development in Culver City.
"We are honored to have Chico's FAS as the presenting sponsor of our Hollywood Build," says Erin Rank, President and CEO of Habitat LA. "Chico's FAS has really proven their commitment to our mission through their generous support of this event, as well as their willingness to physically and financially help us build homes here in Los Angeles and across the country."
This year's signature event has attracted notable attendees including: The Los Angeles Rams 2018 rookies and coaches, comedian Paula Poundstone, singer Camryn Magness, and cast members from: Better Call Saul; The Bold and the Beautiful; Chicago P.D.; El Gallo; Forrest Gump; Game Shakers; Glee; Grey's Anatomy; Home Made Simple; House of Lies; How to Get Away with Murder; I, Tonya; I'm Dying Up Here; Justified; The Laura Show; Once Upon a View; Showtime at the Apollo; The Young and the Restless; Westworld; and more.
"For Chico's FAS, it is so meaningful to help women and their families on their path to homeownership," said Shelagh Stoneham, SVP, Chico's Marketing. "The sense of pride and security that comes from owning a home is really the foundation for building a strong and healthy family life and future. We want to embolden women around the country, by helping them to create a decent place to live."
In partnership with Habitat LA, Chico's FAS is committed to the well-being, health and empowerment of women and will demonstrate their support at Saturday's Power Women, Power Tools build. Along with Habitat LA, Chico's FAS believes in the importance of creating a world where everyone has a decent place to call home, and through shelter, they will empower women and their families to achieve their dreams of a better life. The stability and security of homeownership will allow families to pursue careers, further their education and watch their children thrive.
To stay current on all Habitat LA events including Hollywood Build, visit Twitter, Instagram and Facebook @HabitatLA, and through the hashtag #HollywoodBuild.