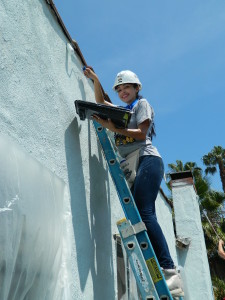 Residents of the 500 and 600 blocks of Hyde Park Place in Inglewood, CA. woke up on June 5th to see a new sparkle up and down their street, thanks to about 400 volunteers who completed neighborhood upgrades as part of Habitat for Humanity of Greater Los Angeles' (Habitat LA) 2016 Hollywood Build.
The two-day build brought out members of the entertainment industry, corporate groups and a large contingency of high-profile women to paint, landscape and upgrade the exteriors of seven houses and the front of a day-care center. Habitat LA is also in the process of building three two-story homes on that same street.
At one house Saturday, the Power Women, Power Tools ® volunteers attacked the rock-hard, mostly barren front yard with shovels and pickaxes, later leaving it without any weeds and covered with an attractive landscape of drought-friendly brown woodchips. A little down the block, the front of the Centinela Christian Child Development Center got the same treatment a day before during the Entertainment Industry build. Some of the homes got fresh new coats of paint while others had their trim sanded and repainted. No detail was ignored, with several wrought-iron gates carefully cleaned and then given a bright coat of paint from top to bottom. Even garage doors and rain gutters got the same treatment!
The two special build days, sponsored by Lowe's, were an opportunity to engage volunteers close up in Habitat LA's neighborhood revitalization work, which includes building new houses and improving others. The affiliate has constructed, repaired and rehabilitated nearly 750 houses in greater Los Angeles since 1990.
"It's a way for all of us to learn about construction and helping out," explained Bill Blake of Zurich North America, who is the incoming chairman of Habitat LA's board. "Everybody is equal out here and it doesn't matter if you are a lawyer or a salesman, we are all working hard for a common cause and learning together."
That was the case on Friday for Cindy Martinez who found herself in a position she'd never experienced before — on a large ladder dabbing white primer on the side of a house. Martinez was a volunteer who drove up for the build from Riverside. She said a friend suggested that she come along, and she quickly found herself in high places, and feeling pretty good. "I just feel amazing doing this," said Martinez, who spent 13 years working in television for Univision and Telemundo. She is now a motivational speaker and life coach for women and teens and is the founder of The Kids of the World. "It is a gift from God to be working alongside the Habitat LA homebuyers who will experience the joy of purchasing their first homes," she said.
Among other volunteers working both days was a large crew from Lowe's, which has a long history of working with Habitat for Humanity, both locally and throughout the nation. "It's all a matter of giving back, and that's what our employees do," explained LeAnne Romesburg, who is Lowe's Director of Human Resources – Field Operations. A veteran of several Habitat for Humanity women builds, she joined a number of Lowe's employees Friday as they put the first coat of paint on the top floor of one of the houses under construction on Hyde Park Place. "Our slogan this year is 'Helping People Love Their Homes,' and working with Habitat for Humanity is a key thing our employees do to achieve that goal," she said.
Story by Joe Blackstock. Joe is a longtime supporter of Habitat for Humanity and retired reporter. His most recent position was with the Inland Valley Daily Bulletin.