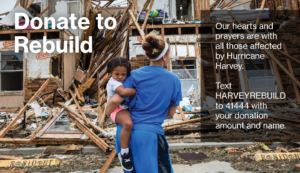 Our hearts have been heavy as we have seen Hurricane Harvey and Hurricane Irma wreak havoc on southeast Texas, the Louisiana coast, Florida and the Caribbean. More than 30 of our own Habitat affiliates have been personally touched by the storms. We too have watched helplessly as residents and rescuers have navigated the catastrophic damage, but inspired simultaneously by the selfless acts of neighbors helping neighbors through the chaos. We know the effects of these storms will take years to recover from but Habitat for Humanity has 20+ years of experience in disaster relief work and we are ready and equipped to lead a comprehensive, collaborative rebuilding effort that will include clean-up, repairs and new construction once the waters have receded and damage assessment has been done.
We have set up a donation page through Habitat LA and can ensure that every dollar you donate will directly support Hurricane rebuilding efforts.
To make a donation:
• Click HERE
OR
• Text HARVEYREBUILD with dollar amount to 41444. HARVEYREBUILD must appear first in the text message.
Thank you for investing in recovery work as well as the people and communities in the affected areas. Watch Habitat for Humanity International CEO, Jonathan Reckford, discuss Habitat's disaster relief strategy HERE. We also ask that you join us in praying for all of the Hurricane victims.
Lord of all compassion
We pray for all of those caught up in the midst of tragedy or disaster.
For those who have lost life and those working to save life
For those who are worried for people they love
For those who will see their loved ones no longer
Lord Have Mercy.
For those in need of the peace that passes all understanding
For all who turn to you in the midst of turmoil
For those who cry out to you in fear and in love
Lord Have Mercy.
For those in confusion and those in despair
For those whose tears are yet to dry
For those in need of your unending love
Lord Have Mercy.
Amen.