We had a delegation of staff and partner homeowners attending Habitat on the Hill, Habitat's annual legislative conference, last week in Washington D.C. Many Habitat representatives and affordable housing representatives from across the country gathered to discuss Habitat's legislative priorities, attend advocacy and policy-related workshops, and hold face-to-face meetings with lawmakers on Capitol Hill. They all had a great time and we look forward to seeing how their conversations shaped legislation in regards to affordable housing in the near future.
Habitat LA Partner Homeowner, Ajhanae Favors and her family joined us for Habitat on the Hill and she was kind enough to share her experience below.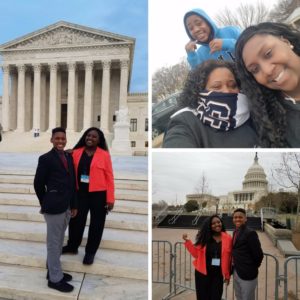 My day at Capitol Hill was phenomenal. Many different organizations from all over the country came together as one to speak to congress about their political issues. With Habitat for Humanity, we talked about affordable housing – why it's important, tax reforms, and the Americorps organization. These were the main points that needed to continue being funded in order to maintain, creating happy and well-built homes for families in need.
No words can fully describe my experience at Habitat on the Hill. It was such a tremendous experience and it exposed me to many new things. Everyone was so kind to me and my family. I met a lot of new friendly faces. I had never been to Washington DC before but this experience makes me definitely want to go back. Just knowing that Habitat and volunteers helped build my home makes me want to do and give back more to help others. We are willing to help lend a hand up. After all, everyone deserves a happy home.
Learn more about homeownership with Habitat LA here.