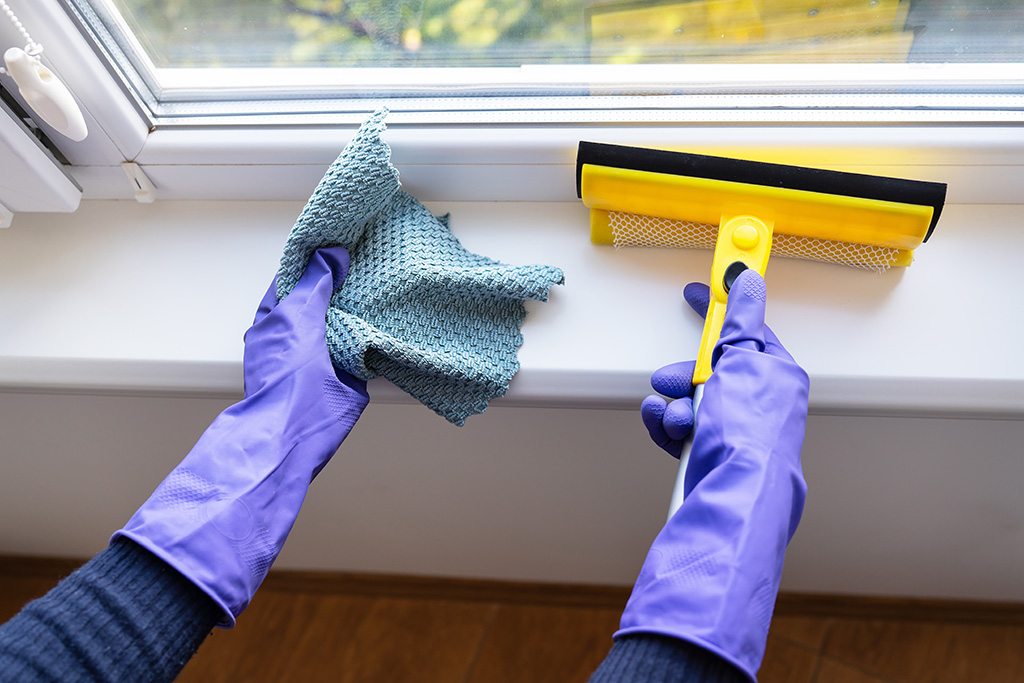 Make the First Day of Spring Your Time to Deep Clean
Spring is here and it's the perfect time for a reset—especially in your home! Cleaning the dust, dander and clutter not only clears your space, it also clears your mind.  According to experts, decluttering helps you feel accomplished, more peaceful, and improves your focus! Here are 5 essential steps to get you started.
Clean Kitchen Walls & Baseboards
Overtime, marks, stains and even drawings from the kids can build up on your walls. Often an easy and sustainable cleaning solution like vinegar can help tackle stubborn grime, especially on backsplash tiles in the kitchen. Don't forget to hit those baseboards since it's a great place for dust and pet hair to settle. If you're not sure what works best on wood or ceramic, there are inventive methods like using dryer sheets.
Give Bedrooms & Bathrooms a Detox
Bedrooms and bathrooms are the most commonly used spaces in your home. Everyone knows to change your sheets weekly, but did you know your mattress can build up with dust, skin cells, and other germs? With a few simple techniques like steam-cleaning surface stains and deodorizing with baking soda, you can protect the lifespan of your mattress. The same goes for the grout between the tiles in the shower or on the floor in your bathroom. Mildew can grow on grout, but using a steam cleaner is one great way to remove it without too much scrubbing.
Dust or Upgrade Light Fixtures
Ever wonder why you're not getting the best light in your home? Light fixtures can dim from gathering dust, especially if we forget to give them a nice clean occasionally. Unplug or turn off lamps before wiping them down. Let the light bulbs cool down before you start dusting. If you'd like to replace old light fixtures with energy-efficient lights, this spring is an awesome time to upgrade your lighting. Our Habitat ReStores often have new and gently used LED panels, chandeliers and sconces; see the Lighting section of shoplarestore.org for a wide selection!
Organize Outdoor Spaces & Garages:
Many of our Habitat homebuyers are proud to have their very own garages after renting for so many years. This is your reminder that Spring cleaning should extend to the exterior of your home too! Grease stains and grime can be a pain to get out of the driveway or cement flooring; prepping those spots with sawdust can help get rid of them without the need of a power washer. Before washing down your garage, check for wiring and other electrical hazards.
Declutter & Donate to the ReStore
After deep cleaning your home, sWhen you're ready to say goodbye and share with someone else, donate your new or gently used items to Habitat ReStores! When you buy or donate at any of our ReStores, your purchase helps build and repair homes throughout greater Los Angeles. Our ReStores accept everything from furniture including sofas, desks, dressers, end tables, bed frames, as well as appliances like washing machines and dryers. Visit Donate Items, to learn more about what you can donate and schedule a donation pick up.