Each year at this time, we invite our donors and volunteers to celebrate the season as we reflect upon the past year. We all had much to celebrate this past year, including being named once again as a Top 25 Residential Home Builder in Los Angeles by The Los Angeles Business Journal (and the only nonprofit on the list) and a Habitat for Humanity Affiliate of Distinction for the third time. We were also awarded an expanded service area by Habitat for Humanity International to include the San Fernando, Santa Clarita, and Antelope Valley areas of Los Angeles!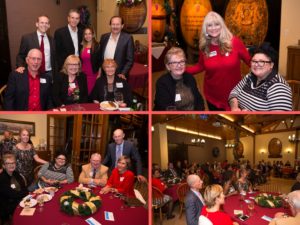 Perhaps more exciting is knowing that even more families will be celebrating the holidays in their new Habitat homes this year! Thanks to the support of donors and volunteers, we were able to complete a total of 18 new homes in the cities of Bellflower, Downey, Montebello, and Los Angeles, which also happens to be our 800th home!
We are extremely grateful for the many, generous supporters who helped us serve families in the Greater Los Angeles area. We were honored to be able to spend an evening with our valued donors and volunteers and we look forward to their continued support as we prepare to get to work in 2018!
View more photos from this event here.
If you have not visited the San Antonio Winery, it too has a rich history in the City of Los Angeles, going back 100 years. Learn more here.