Los Angeles, CA – November 29, 2018: Habitat for Humanity of Greater Los Angeles (Habitat LA) has been granted a $20,000 disaster services grant from Habitat for Humanity International and State Farm®. The grant will be used to support Habitat LA's Fire Recovery Initiatives, as well as to engage youth to join in those efforts.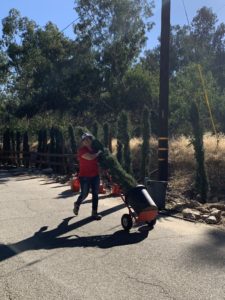 "The greater Los Angeles area has been adversely affected by wildfires in the past twelve months, including the Creek Fire and most recently, the Woolsey fire," said Erin Rank, President and CEO, Habitat LA. "We are grateful to Habitat for Humanity and State Farm for this grant and their support as our community continues to recover."
With the support of donors, Habitat LA is working to rebuild, repair and restore wild fire-affected neighborhoods. Assistance is provided free of charge, on a first-come-first-served basis and will be limited to a maximum of $20,000 in materials and service costs.
"State Farm is committed to building safer, stronger and better-educated communities," said Araceli Sandoval, State Farm Agent. "Together with Habitat for Humanity of Greater Los Angeles and volunteers, we can assist families with making safety repairs to their homes that were damaged by the Creek Fire."
State Farm and Habitat for Humanity International are providing up to $100,000 in grants for disaster recovery projects that engage youth. State Farm has been a supporter of Habitat for Humanity International's youth initiatives since 2007.
Click here to make a donation toward Habitat LA's local fire recovery efforts.
About Habitat for Humanity of Greater Los Angeles:
Founded in 1990, Habitat LA brings people together to build homes, communities and hope. As the top nonprofit homebuilder in the greater Los Angeles area with six consecutive Charity Navigator 4-Star ratings, Habitat LA has partnered with volunteers, donors and Habitat homeowners to build, renovate and repair more than 1,300 homes locally and worldwide since, transforming thousands of lives. Habitat homeowners help build their own homes and pay an affordable mortgage. By supporting Habitat LA through volunteerism and donations everyone can help families achieve the stability and self-reliance they need to build a better future. To learn more, visit habitatla.org.
About State Farm:
The mission of State Farm is to help people manage the risks of everyday life, recover from the unexpected, and realize their dreams. State Farm and its affiliates are the largest providers of auto and home insurance in the United States. Its nearly 19,000 agents and approximately 65,000 employees serve approximately 83 million policies and accounts – approximately 81 million auto, fire, life, health and commercial policies and approximately 2 million bank accounts. Commercial auto insurance, along with coverage for renters, business owners, boats and motorcycles, is available. State Farm Mutual Automobile Insurance Company is the parent of the State Farm family of companies. State Farm is ranked No. 36 on the 2018 Fortune 500 list of largest companies. For more information, please visit http://www.statefarm.com.
# # #
Media Contacts:
Genetric Brown
Habitat LA
424-246-3187
gbrown@habitatla.org
Jordi Ortega
State Farm
(323) 363-7746,
jordi.ortega.kzab@statefarm.com
Twitter: @SF_JordiO
Angela Moore
Starfish PR
310-429-8868
angela@starfish-pr.com