Non-Profit's Home Improvement Thrift Stores and Donation Centers Have Diverted More Than 11 Million Pounds of Materials from Local Landfills Since 2004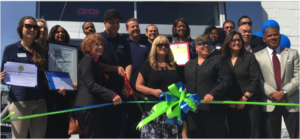 Los Angeles, CA — May 1, 2018: As part of the organization's recent territory expansion to serve more than 85 percent of Los Angeles County, Habitat for Humanity of Greater Los Angeles (Habitat LA) has opened its third ReStore location. These nonprofit home improvement thrift stores and donation centers sell new and gently used furniture, appliances, home accessories, building materials and more to the public at a fraction of the retail price. All proceeds from the ReStores are used toward furthering Habitat LA's mission to build homes, communities, and hope in Los Angeles.
Since 2004, Habitat LA ReStores have diverted more than 11 million pounds of materials from local landfills. This new ReStore is located at 1071 South La Brea Ave, in the heart of Los Angeles' Mid-Wilshire neighborhood. A grand opening celebration was held throughout Earth Day weekend (April 20 – 22), which included a ribbon-cutting, live DJ, discounted prices, giveaways, raffle prizes, and informative DIY upcycle demonstrations.
"We are so pleased to have opened this new Habitat for Humanity ReStore location in the heart of Los Angeles. Our sustainable model encourages upcycling and diverts reusable materials from local landfills," said Erin Rank, President and CEO, Habitat LA. "The ReStores are also a social enterprise that help fund Habitat's mission to build more affordable homes. By donating and shopping at our three LA ReStores, the community is helping to combat the affordable-housing crisis, and break the cycles of poverty and poor living conditions in Los Angeles County."
Habitat ReStores invite the community to shop for home goods and building materials, while doing good for others. Shoppers will find one-of-a-kind treasures, such as items from movie sets and vintage finds, as well as everyday items such as paint, rugs and tile, all at reduced prices. The ReStore motto "donate it, don't dump it" is made easy with 12 trucks picking up new and gently used household items daily. Proceeds from ReStores support Habitat LA's mission to build homes with hard-working, low-income families who wouldn't be able to qualify for a traditional home loan, as well as supports the organization's community initiatives, such as the Home Repair program, and programs that provide housing for seniors, families with accessibility needs and veterans.
Habitat LA ReStore Locations
Open daily: 8:30 am to 7:30 pm
• 8729 E. Artesia Blvd, Bellflower, CA 90706
• 1071 South La Brea, Los Angeles, CA 90019
• 18600 Crenshaw Blvd, Torrance, CA 90506
Visit https://www.habitatla.org/restore/ for more information.
About Habitat for Humanity of Greater Los Angeles:
Founded in 1990, Habitat LA brings people together to build homes, communities and hope. As the top nonprofit homebuilder in the greater Los Angeles area with six consecutive Charity Navigator 4-Star ratings, Habitat LA has partnered with volunteers, donors and Habitat homeowners to build, renovate and repair more than 1,300 homes locally and worldwide since, transforming thousands of lives. Habitat homeowners help build their own homes and pay an affordable mortgage. By supporting Habitat LA through volunteerism and donations everyone can help families achieve the stability and self-reliance they need to build a better future. Habitat LA ReStores are located in Bellflower, Mid-Wilshire L.A., and Torrance. To learn more, visit www.habitatla.org.
Media Contacts:
Ann Penn
Habitat LA
310-508-5783
apenn@habitatla.org
Angela Moore
Starfish PR
310-429-8868
angela@starfish-pr.com