FOR IMMEDIATE RELEASE
Contacts:            
Ali Mullin
amullin@habitatla.org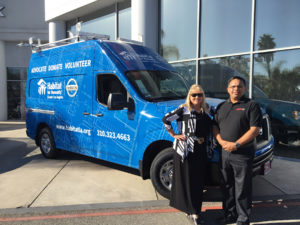 [LOS ANGELES, Ca.] (October 24, 2016) — Habitat for Humanity of Greater Los Angeles (Habitat LA) will receive a new NV 2500 with high roof as part of a grant from Nissan North America to help families across the country secure decent, affordable housing. Nissan is kicking off its second decade of partnership with Habitat for Humanity with a $1 million donation, bringing contributions in North America to more than $14 million over the past 11 years.
"Nissan is a valued partner in supporting our work Building a Greater Los Angeles," says Erin Rank, Habitat LA President/CEO. "Their truck donation will allow us to transport building materials while also saving us thousands of dollars that can instead be invested into building homes and better futures with Habitat LA homebuyers."
Nissan is donating nine vehicles to be used locally by Habitat offices. Additionally, Nissan employees will volunteer to support construction or revitalization projects in 12 Habitat communities this year.
"Nissan values its partnership with Habitat for Humanity because it delivers strong results each year in building sustainable communities in the areas where our employees live and work," said Nissan Vice President Rebecca Vest. "Our employees look forward to working alongside future homeowners, and their experiences affirm our corporate mission to enrich people's lives."
Nissan's partnership with Habitat began in 2005 when it donated 50 trucks and mobilized employees to assist in home building following Hurricanes Katrina and Rita in the Gulf Coast region. In the last decade, Nissan has donated an additional 88 vehicles. Since 2006, Nissan's employees have logged more than 80,000 volunteer hours with Habitat for Humanity, building 71 homes across the U.S.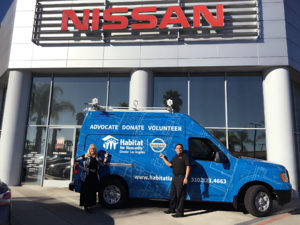 About Habitat for Humanity of Greater Los Angeles
Habitat for Humanity of Greater Los Angeles (Habitat LA) brings people together to build homes, communities and hope. As the top nonprofit homebuilder in the greater Los Angeles area with five consecutive Charity Navigator 4-Star ratings, Habitat LA has partnered with volunteers, donors and Habitat homeowners to build, renovate and repair more than 1,200 homes locally and worldwide since 1990. The lives of thousands of individuals have been transformed as a result of having a decent and affordable place to call home. Habitat homeowners help build their own homes and pay an affordable mortgage. By supporting Habitat LA through volunteerism, donations and supporting affordable housing, everyone can help families achieve the stability and self-reliance they need to build a better future. To learn more, visit dev.habitatla.org
About Nissan North America
In North America, Nissan's operations include automotive styling, engineering, consumer and corporate financing, sales and marketing, distribution and manufacturing. Nissan is dedicated to improving the environment under the Nissan Green Program and has been recognized annually by the U.S Environmental Protection Agency as an ENERGY STAR® Partner of the Year since 2010. More information on Nissan in North America and the complete line of Nissan and Infiniti vehicles can be found online at www.NissanUSA.com and www.InfinitiUSA.com, or visit the U.S. media sites NissanNews.com and InfinitiNews.com.
About Nissan Motor Co. Ltd.
Nissan Motor Co., Ltd., Japan's second-largest automotive company, is headquartered in Yokohama, Japan, and is part of the Renault-Nissan Alliance. Operating with more than 247,500 employees globally, Nissan sold 5.32 million vehicles and generated revenue of 11.38 trillion yen (USD 103.6 billion) in fiscal year 2014. Nissan delivers a comprehensive range of more than 60 models under the Nissan, Infiniti and Datsun brands. Nissan leads the world in zero-emission mobility, dominated by sales of the LEAF, the first mass-market, pure-electric vehicle. It is the best-selling EV in history with almost 50% share of the zero-emission vehicle segment. For more information on our products, services and commitment to sustainable mobility, visit our website at http://www.nissan-global.com/EN/.